Main content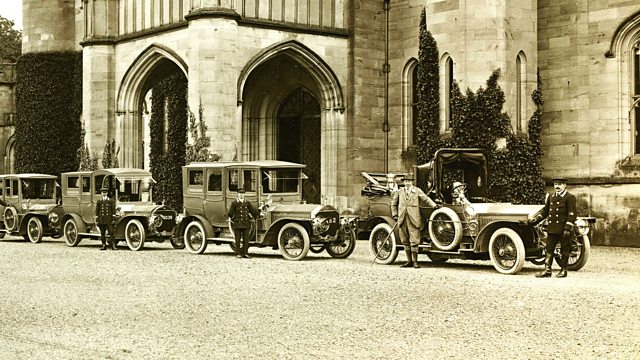 North Cumbria
Eric Robson hosts the horticultural panel programme from North Cumbria. Pippa Greenwood, Christine Walkden and Matthew Wilson join him to answer questions from the audience.
Produced by Darby Dorras
Assistant Producer: Claire Crofton
A Somethin' Else production for BBC Radio 4.
Last on
The ruins of Lowther Castle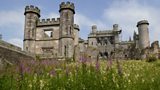 Epitomising the eccentric extravagance of the Yellow Earl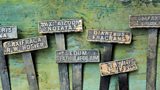 Plant labels found in Lowther Castle gardens... made of lead! 
This week's questions and answers:
Q. Could you recommend some plants and trees to allow me to recreate a little piece of the Lake District in my back garden? It is 15m (49ft) long, south-facing and steep.

A. You could try Juniper, Foxgloves, Primulas, Primroses, Meconopsis cambric, Speedwell, and Ferns. Use one tree, such as a Hawthorn or a Rowan. This can all be set against a dry stone wall.


Q. Why do thick tree roots rise to the surface of lawns and how can they be dealt with?
A. Cherry trees are notorious for this. You can cut them out but that isn't good for the health and stability of the tree. You could raise the soil level, but not very much without causing damage.

You could make a feature of the roots and add some bulbs in between to create a tapestry effect. Try Narcissus hawera, Narcissus obvallaris, Narcissus lobularis, or Cyclamen. Add a layer of soil and compost on to the roots, let it break down and then plant the bulbs. You could also try later bulbs such as Camassias.


Q. The bottom of my garden is very dark and loved by ferns. What could I add for colour?

A. There are many varieties of Lamiums to choose from. Try a specialist Fern nursery for an array of different greens and textures. Also add snowdrops. If it is a boggy area, you can add some mounding. Narcissus cyclamineus requires damp conditions and will dry out otherwise. Smilacina racemosa thrives in wet soil and produces plumes of white flowers. Lysimachia clethroides has grey-green leaves and elegant white flowers like a shepherds crook. You could try white Astilbe, variegated Hostas, Cyclamen hederifolium, or white Foxgloves.


Q. My pretty Amelanchier tree has an orange fungus on the trunk, running up from the base. What is causing it?

A. It sounds like Coral Spot. It usually gets a hold when the plant has already been damaged. Cut out anything that is dying and any covered wood. But if it is on the trunk you might be better to get rid of the whole tree, as the fungus will spread around the garden. Check that something else hasn't caused the initial damage before you attempt to plant on the same spot.


Q. My Laburnum tree has developed some ugly, twisted branches and some very long, straight branches. What could be causing this?

A. It could be fascination that causes a twisted and ribbed appearance on the stem. It is rarely caused by infection but by a late frost or insect damage. Occasionally weed killer could cause it. Laburnum does have a tendency to throw out water shoots. More water shoots could be a consequence of pruning.
Broadcasts