Main content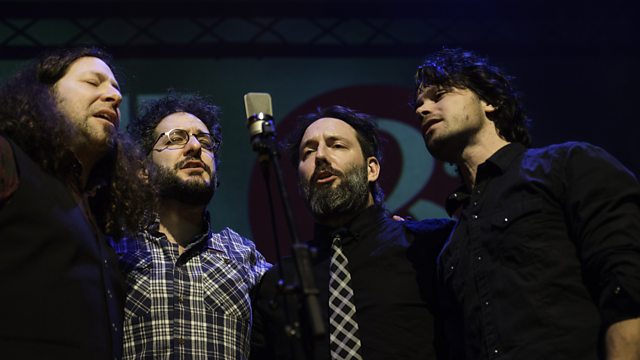 Mary Ann Kennedy Live from Celtic Connections 1
Live from Glasgow, Mary Ann Kennedy presents highlights from 2015's Celtic Connections festival. Featuring performances by Vent du Nord, Ganesh and Kumaresh, and Manran.
Mary Ann Kennedy live from Glasgow at one of the world's biggest winter music festivals, with special late-night performances from the CCA, the BBC's hub on Sauchiehall Street.
In tonight's line-up, leading Quebec roots musicians Vent du Nord; Indian classical violin duo Ganesh and Kumaresh; plus Manran, one of Scotland's new generation of folk bands, who infuse Gaelic song with heavyweight Highland and uilleann pipes.
Celtic Connections is held in 20 venues over 18 days with 300 events taking place throughout the whole festival, involving over two thousand musicians from 26 countries. Scots and Irish Celtic music is at the centre of the festival, but it has always embraced the music of the Celtic cultures of the USA, Canada, France and Spain, together with the closely connected cultures of Scandinavia and eastern Europe. In recent years the Festival has also connected with traditions across Africa and Asia. The concerts range from the most traditional to the most experimental, all brought together in the context of one of the world's liveliest folk cultures, with a never-ending stream of young Scottish musicians who are reinventing their own traditions for their own time.
This is the first of two live late-night sessions from Glasgow's Centre for Contemporary Arts, each featuring some of the best acts from the Festival. It is part of BBC Music's extensive coverage of Celtic Connections, also featuring on BBC Radio 2, BBC Radio Scotland, BBC2 TV in Scotland, and BBC Music Online.
The line-up next week includes Romanian gipsy band Taraf de Haidouks, Songhoy Blues from Mali, and Italian tarantella band Canzoniere Grecanico Salentino.
Tickets available from the BBC Tickets website from Friday 9th January.
More episodes
Previous
You are at the first episode
Clips