Main content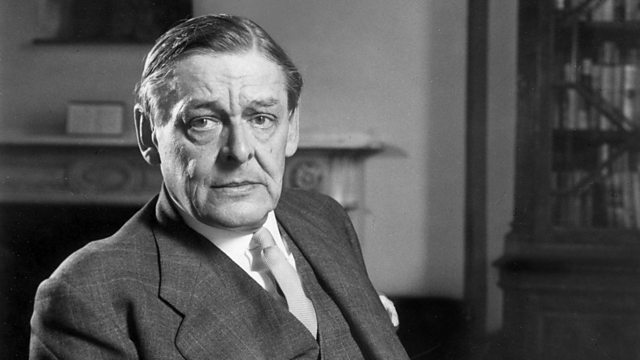 TS Eliot Prize winner David Harsent, Robert Crawford, Allan Ropper on healing the brain
Anne McElvoy presents. With 2014 TS Eliot Prize winner David Harsent, Robert Crawford and Lyndall Gordon on TS Eliot, and Allan Ropper on the dilemmas of treating brain disease.
The Scottish poet Robert Crawford has written Young Eliot: A biography which explores T S Eliot's life from his childhood in St Louis to publication of 'The Wasteland. He and fellow-Eliot biographer, Lyndall Gordon join Anne McElvoy to work out Eliot's enduring power and appeal while the winner of this year's TS Eliot prize David Harsent reads from his collection Fire Songs.
Allan Ropper is a US neurologist who has written a book called Reaching Down The Rabbit Hole -- his description of what it's like to make a diagnosis where minds and lives hang in the balance. He talks to Anne McElvoy about the mixture of intuition and medical knowledge that every brain doctor needs. They are joined by Brian Hurwitz, Professor of Medicine and the Arts at King's College London to discuss the role of case histories over time and new importance being attached to narrative medicine.
Producer: Jacqueline Smith.
Reaching down the Rabbit Hole by Dr Allan H Ropper and Brian D Burrell.
Chapters
Bowland Beth

David Harsent, winner of the TS Eliot prize reads his poem, Bowland Beth

Duration: 02:37

TS Eliot

Robert Crawford & fellow biographer, Lyndall Gordon discuss TS Eliot's enduring appeal

Duration: 16:12

David Harsent

David Harsent discusses his win, how he writes and influence by TS Eliot

Duration: 07:42

Allan Ropper

Allan Ropper a neurologist discusses his book Reaching Down The Rabbit Hole

Duration: 07:07

Case Studies

Brian Hurwitz & Allan Ropper discuss case studies around neurological conditions

Duration: 09:40

Credits

| Role | Contributor |
| --- | --- |
| Interviewed Guest | Robert Crawford |
| Interviewed Guest | Lyndall Gordon |
| Presenter | Anne McElvoy |
| Interviewed Guest | David Harsent |
| Interviewed Guest | Allan H Ropper |
| Interviewed Guest | Brian Hurwitz |
| Producer | Jacqueline Smith |