Main content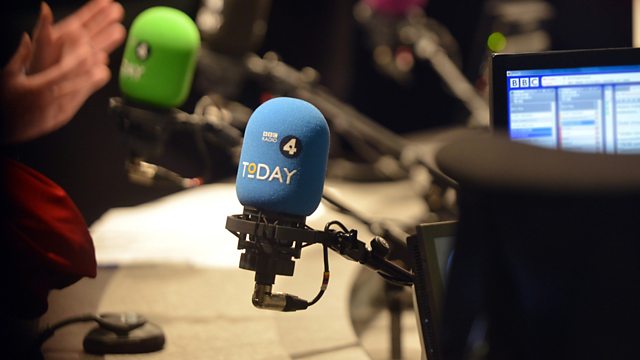 15/01/2015
Morning news and current affairs. Including Sports Desk, Yesterday in Parliament, Weather and Thought for the Day.
Last on

Clips

Today's running order
0650

More than a thousand British farmers weren't paid for their milk this week because of a financial crisis at the Dairy Company, First Milk. It was the latest setback in a bleak period for dairy farmers.  At the end of 2014, the number in England and Wales had dipped below 10,000 for the first time, a 50% fall in since 2002. Michael Partington is an award winning dairy farmer based near Bolton. Nick Etherington is from the Royal Association of Dairy Farmers.

0710

BP is talking to staff in its Aberdeen HQ this morning following a strategic review of its North Sea operations. It won't say if there'll be job losses, but they are expected. Ed Davey is energy minister.

0712

Researchers at Cambridge University say a lack of exercise may be responsible for twice as many deaths as obesity. A study published in the American Journal of Clinical Nutrition concludes a brisk twenty-minute walk each day makes a big difference. Professor Nick Wareham is director of the Medical Research Council Epidemiology Unit.

0715

More than a week since the murderous attacks in Paris and the American secretary of state John Kerry is going there today to talk about what the west can do to stop this kind of terrorism. Frank Gardner is security correspondent.

0720

Cold shocks can protect your brain: researchers at the Medical Research Council's Toxicology Unit have identified a protective mechanism that kicks in when body temperature is lowered.  They found out a protein released during hypothermia is responsible for preventing the loss of brain cells and the connections between them. They are now hoping to reproduce the effect of brain cooling to tackle neurodegenerative diseases such as Alzheimer's. Giovanna Mallucci is professor of Clinical Neurosciences at Cambridge University.

0730

David Cameron is expected to press for the release of the last remaining British resident being held in Guantanamo Bay. It comes as Barack Obama is expected to announce a spate of releases, so how does that fit with this time of increased security threat? Aleem Maqbool reports.

0740

We've heard a lot recently about the pressures currently facing some Accident and Emergency Units.  And one man who has experienced a particularly extreme consequence of that is Michael Steel.  A lack of space meant his bed was moved to a stock room and left there for three days at the Princess Alexandra Hospital in Harlow, with frequent interruption as staff came and went to get supplies from the shelves by his bed. We speak to Michael Steel, a retired 63 year old salesman from Harlow.

0750

It's been called the "Climb of the Century", after setting off on Dec 27, Tommy Caldwell, 36, and Kevin Jorgeson, 30, have completed what has long been firmly dismissed as "impossible," a Holy Grail in the rarefied world of extreme climbing.  They are the first to "free climb" El Capitan's Dawn Wall, in California's Yoesemite National Park, using only their hands and feet rather than ropes, to pull themselves up. John Long is climber, author and media manager of the team. Andy Kirkpatrick is a writer and climber. Hazel Findlay is a free climber and a friend of Kevin and Tommy's.

0810

Shares fell around the world on Wednesday after the World Bank signalled that global growth was likely to slow. As many regions of the world slow down, inflation is turning to deflation. But in the UK, the chancellor said in a speech yesterday we should "celebrate" not "fear" the plummeting inflation we are experiencing here. Adair Turner is former head of the Financial Services Authority.

0820

By the end of the Second World War 130,000 women had passed through the gates of Ravensbruck concentration camp, between 30,000 and 50,000 of them died there. Ravensbruck was a camp specifically for women, some were Jewish but most were not. There were political prisoners there, prostitutes, gypsies, the mentally ill.   The story of the women of the camp, what happened there, and what happened to those who got out alive, is told in a book called "if this is a woman" by the journalist Sarah Helm.

0830

The front page of the Financial Times this morning lays bare the storm facing the oil industry as a result of the plummeting price of their main product. Oil majors move to slash costs it says, among those majors is BP and among the places where costs are being cut is the North Sea. BP is expected to cut jobs in Aberdeen today. Claudia Belahmidi, energy analyst and Fergus Ewing, the Scottish Business and Energy minister.

0840

As the deadly Ebola virus continues to strike at the population of West Africa, with over 8,000 deaths, the race is on to find a vaccine.  There are three front runners being developed internationally by the world's biggest drug companies, one of which is being tested on Thursday on a group of UK volunteers. Dr Matthew Snape is from the Oxford Vaccine Group. We also speak to a volunteer.

0850

Further analysis of deflation (see 0810).

All subject to change.
Broadcast