Main content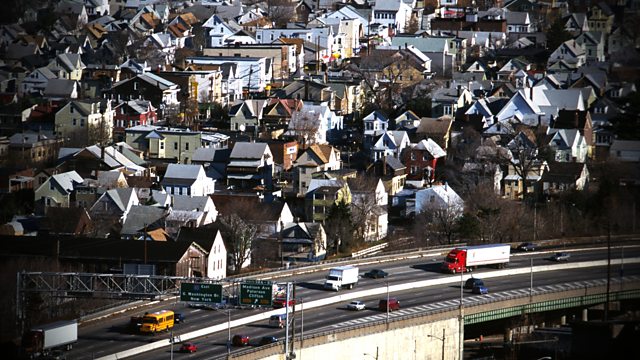 A Traveller's Guide to Paterson
Michael Symmons Roberts presents a drama-documentary exploring Paterson, New Jersey, the favoured city of and subject of an epic poem by William Carlos Williams.
American poet William Carlos Williams's poly-vocal epic poem 'Paterson' is a portrait of his favoured city in New Jersey where he worked as a doctor. Michael Symmons Roberts presents a portrait of the same city today in reportage and documentary alongside a fictional drama which responds to events described in Williams's poem.
Roberts travels to New Jersey to meet William Carlos Williams's family, friends, academics and community figures to explore Paterson and the stories in the poem. His new writing, commentary and interviews all arise from a direct engagement with the city and the poem, responding to the place as it stands - politically and economically.
Recorded at a political and economic turning point for the USA, Michael Symmons Roberts tests today's Paterson against the place Williams knew, and asks if the poet's warnings about the effects of modernization and technology were prescient, or merely nostalgic. Walking the same streets, visiting the same districts, calling at the same buildings, this programme opens up a great 20th-century poetic masterwork and at the same time create a new dramatic work, reportage and documentary - a new 'Paterson'.
William Carlos Williams wasn't from Paterson. He was an outsider. Michael is also a different kind of outsider who, like Williams is interested in the bigger picture - the state of the nation, looking through the intimate lens of small-town America to comment on it
Paterson is a mid-sized industrial town in New Jersey, USA. In 1963, the great American poet William Carlos Williams published his masterwork. It had taken him almost three decades to write and consisted of five books of poetry, reported speech, fragmentary reflection and conversations with other Patersonites, including Williams's fellow poet Allen Ginsberg. It is a truly epic piece of work, still regarded as a jewel of modernist writing.
Williams knew the city intimately, not just as a poet, but as a father, a friend, a doctor working in the community. Turning his back on the grand abstractions and international perspectives of his fellow modernists Eliot and Pound, Williams dug into what he called 'the local'.
Paterson is a poetic monument to, and personification of, the city of Paterson, New Jersey, which was Williams's hometown. Its three driving themes are Paterson the Man, Paterson the City, and Identity. At the heart of the poem is an in-depth questioning of the burgeoning process of modernization and its effects.
A half century on, the town of Paterson has a population just under 150,000. It has large communities of Puerto Ricans, Bangladeshis and a Muslim population substantial enough to warrant Muslim holidays for all the town's public schools.
As with many American cities, recession, unemployment , crime and social unrest in Paterson have grown in recent years.
All of this is explored in A Traveller's Guide to Paterson.
Michael Symmons Roberts in Paterson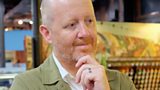 "I love the pared back beauty and precision of these imagist poems, but Williams wrote a lot more than that. I'm here to find the roots of his masterpiece, the epic poem he called Paterson."
Michael interviews in Paterson Public Library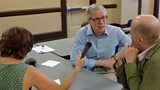 The writer, Michael, in Paterson where he met William Carlos Williams' family, friends, academics and community figures. Here he is with Leonard Zax, the President of a non-profit movement to try to rejuvenate the city. 
Credits
| Role | Contributor |
| --- | --- |
| Writer | Michael Symmons Roberts |
| Himself | Michael Symmons Roberts |
| William Carlos Williams | Trevor White |
| Paterson | Lou Hirsch |
| Robert Coles/Fred/Receptionist | Louis Labovitch |
| The Passaic River | Kate Harper |
| Marie/Mother of Sick Boy | Pippa Bennett-Warner |
| Producer | Deborah McAndrew |
| Director | Susan Roberts |
Binaural sound: doing the best for Beckett