Main content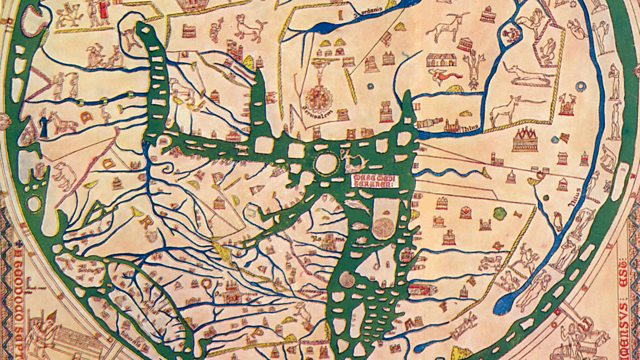 Maps
Texts and music on the theme of maps, with readings by Hugh Bonneville and Barbara Flynn. Including Herodotus, Bunyan, Roger McGough, Lewis Carroll, John Donne and John Cage.
Hugh Bonneville and Barbara Flynn travel across maps in literature, from 'The Pilgrim's Progress' by John Bunyan to Roger McGough's comical poem, 'The Map'.
This edition of Words and Music looks at the early maps described by Herodotus, and poetic reflections on the Mappa Mundi by John Davies of Hereford and the contemporary poet, Philip Gross. There are reflections too on Captain Cook's cartography, a farcical description of map-making from Lewis Carroll's 'Sylvie and Bruno Concluded', and poems on mapping the next world by John Donne and Joy Harjo.
Music includes the anonymous Italian melody 'Ayo visto lo mappamundi' and John Cage's Atlas Eclipticalis.
Elizabeth Arno (producer).
Music Played
Timings (where shown) are from the start of the programme in hours and minutes
Primo Levi, trans. Ruth Feldman

The First Atlas, read by Hugh Bonneville

Herodotus

The Histories (c. 450 – 420BC), read by Barbara Flynn

Howard Nemerov

The Map-maker on his art (1957), read by Hugh Bonneville

Mildmay Fane, 2nd Earl of Westmorland

I am but Saxon and soe toule the Bell, read by Barbara Flynn

Thom Gunn

A Map of the City, read by Hugh Bonneville

Captain James Cook

Journal - 2 January 1770 (extract), read by Hugh Bonneville

Margaret Atwood

The Reincarnation of Captain Cook, read by Barbara Flynn

Jonathan Swift

Gulliver's Travels (Chapter IV, opening extract), read by Hugh Bonneville

John Davies of Hereford

Wit's Pilgrimage, read Barbara Flynn

Philip Gross

Mappa Mundi, read Barbara Flynn and Hugh Bonneville

Lewis Carroll

Sylvie and Bruno Concluded (Chapter 11, extract), read by Hugh Bonneville

Shakespeare

Sonnet 68, read by Barbara Flynn

John Bunyan

The Pilgrim's Progress, paras.722-723 [1678], read by Barbara Flynn

Roger McGough

The Map, read by Hugh Bonneville

John Donne

Hymn to God, My God, in My Sickness, read by Hugh Bonneville

Joy Harjo

A Map to the Next World, read by Barbara Flynn

Producer Note

Maps are beautiful works of art that give us an intriguing glimpse into how mankind has interpreted the world through the ages.  Whilst modern maps are the culmination of precise, scientifically-evolved cartographic practices, and astronomical atlases are derived from astrophysical research, some of the earliest maps, like the medieval mappae mundi, were intended not as literal navigational charts, but as mini encyclopaedias of knowledge – from Bible stories to mythology, and distant lands to flora and fauna. 

This edition of Words and Music comprises meditations on the art of map-making and the fantasies that maps create.  It begins with the wonderment of The First Atlas as written by Primo Levi, and then nods at the very earliest maps, which were engraved on solid matter like bronze, as reported by Herodotus.  The poets Howard Nemerov and Thom Gunn capture the challenges of cartography in their poems The Map-maker on his art and A Map of the City; and there are light-hearted extracts from Jonathan Swift's Gulliver's Travels and Lewis Carroll's Sylvie and Bruno Concluded on the art of making maps.  

No programme on maps would be complete without mention of the great explorers like Captain Cook, captured here in a journal entry from January 1770 as he etches leagues around the Cape Maria Van Dieman on the most northerly point of New Zealand, and Margaret Atwood's poem The Reincarnation of Captain Cook¸ which laments that everywhere on Earth has now been discovered, and hopes to find 'a new land cleaned of geographies'.  Christopher Columbus too was inspired in his 'Enterprise of the Indies' when he saw a mappa mundi in the late 15th Century, given to him by the Florentine astronomer and physician, Paolo Toscanelli.  He is represented in the programme, setting out to sail, in an extract from William Walton's opera, Christopher Columbus.  

Mappae mundi were circulated through the courts of Europe in the late 15th Century and not only captured the imagination of early explorers, but also of composers.  The anonymous poem, Ayo visto lo mappamundi, appears in various settings and interpretations of late 15th-century music, which recur throughout the programme.  Most notably, there is a mass setting by Johannes Cornago, who probably became familiar with the poem and its melody at the Neapolitan court of Alfonso I, which he visited in April 1453.   What is more, this is the first mass to set a non-liturgical text and melody. 

Two texts on the mappae mundi are drawn into a meditation on the Hereford Mappa Mundi, which is an iconic circular map placing Jerusalem at its centre, and it records how thirteenth-century scholars interpreted the world in both spiritual and geographical terms.  John Davies of Hereford's poem, Wit's Pilgrimage, asks to see the 'mapp' and leads into Philip Gross's ethereal poem entitled Mappa Mundi. 

There are also reflections on journeys led by maps: John Bunyan's The Pilgrim's Progress and Roger McGough's humorous poem The Map.  The programme ends with two meditations on mapping the next world: John Donne's Hymn to God and Joy Harjo's A Map to the Next World. 

Musically, in addition to Ayo visto lo mappamundi, there is a fascinating composition by John Cage called Atlas Eclipticalis.  Cage took an astronomical atlas and derived instrumental parts graphically by using chance operations.  The parts are to be played in whole or part in any ensemble and I chose to use a recording of the three flute parts by Eberhard Blum.  Modern cartography is a precise art of drawing lines and I have included canons by both Bach and Scriabin, which involve the combination of precisely-composed musical lines.  Boulez's Notations and Vahi's Pastoral on Computerized World are both drawn into my musical portrayal of modern cartography.  The other pieces in this programme reflect individual poems. 

Elizabeth Arno (producer)

The hidden history of plant-based diets