Main content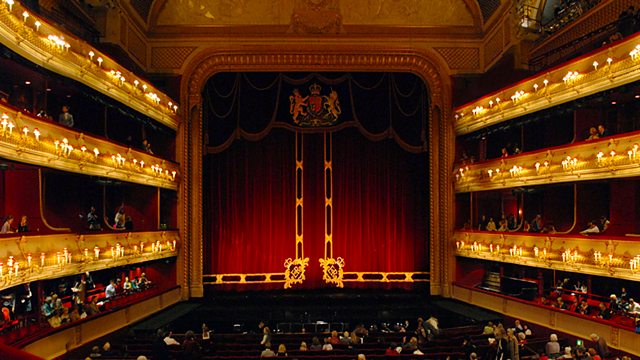 Verdi's Un ballo in maschera
From the Royal Opera House, Covent Garden, Verdi's opera Un ballo in maschera, with Joseph Calleja as Riccardo, Liudmyla Monastyrska as Amelia and Dmitri Hvorostovsky as Renato.
Verdi's "Un Ballo in Maschera"from Covent Garden, a drama loosely based on the real events leading to the assassination of King Gustav III of Sweden. Verdi masterfully develops this story at various levels: against the backdrop of a political conspiracy, he tells of the personal tragedy of a ruler in love with his best friend's wife. Daniel Oren conducts a starry cast lead by Joseph Calleja as Riccardo, Liudmyla Monastyrska as Amelia and Dmitri Hvorostovsky as her husband, Riccardo's friend and advisor Renato.
Riccardo.....Joseph Calleja (Tenor)
Amelia.....Liudmyla Monastyrska (Soprano)
Renato.....Dmitri Hvorostovsky (Baritone)
Ulrica.....Marianne Cornetti (Mezzo-soprano)
Oscar.....Serena Gamberoni (Soprano)
Samuel.....Anatoli Sivko (Bass Baritone)
Tom.....James Platt (Bass)
Silvano.....Samuel Dale Johnson (Baritone)
Minister of Justice.....Samuel Sakker (Tenor)
Royal Opera House Orchestra
Royal Opera House Chorus
Daniel Oren (Conductor).
Synopsis
ACT I
Scene 1: Riccardo's court
Riccardo sleeps, watched over by his courtiers. At the same time, his downfall is being plotted by Samuel, Tom and other conspirators. The page Oscar wakes Riccardo to give him the guest list for the imminent masked ball. One name agitates Riccardo: Amelia, the wife of his minister Renato. Riccardo is eager to see her again as he is secretly in love with her (La rivedrà nell'estasi). Renato arrives to warn Riccardo of plots against him. Riccardo laughs this off, but Renato insists the threats are serious (Alla vita che t'arride). Riccardo's minister of justice brings a request to exile the fortune-teller Ulrica for practising witchcraft. Oscar defends Ulrica (Volta la terrea) and Riccardo decides that he will go and see for himself (Ogni cura si doni al diletto).
Scene 2: Ulrica's home
Ulrica invokes supernatural powers (Re dell'abisso affrettati). Riccardo, in disguise, joins the crowd watching her. Samuel, Tom and the other conspirators are also there. Ulrica's first client is Silvano, a sailor after advancement. Ulrica predicts wealth and glory for him – Riccardo secretly slips money and papers for promotion in his pocket to make it happen. A servant arrives from Amelia, who wants to see Ulrica in private. As the crowd is dismissed, Riccardo hides to watch. Amelia begs Ulrica to rid her of a love that torments her. Ulrica orders her to go to the nearby cemetery that night and pick a healing plant that grows there. Amelia leaves and the crowd returns. Riccardo now presents himself to Ulrica, pretending to be a fisherman with an adventurous life (Di' tu se fedele). Ulrica tells his fortune: he will die by the hand of a friend. For a second time, Riccardo laughs off a fatal warning (È scherzo od è follia) but asks about his 'murderer'. Ulrica tells him it will be the next person to shake his hand. Renato arrives, recognizes his master and clasps his hand. Riccardo dispenses with his disguise, and accepts the praise of everyone except the conspirators and Ulrica (O figlio della patria).
ACT II
The cemetery
Amelia has slipped out in the dark to find the herb recommended by Ulrica. She is terrified by the darkness, and reluctant to renounce her love for Riccardo (Ma dall'arido stelo divulsa). Riccardo, who has followed her, confronts her and declares his love. Reluctantly, she admits that she also loves him. They couple separate as they hear footsteps, and Amelia hides her face with her veil.
Renato arrives to warn Riccardo that the conspirators are coming. Both Renato and Amelia (veiled and so unrecognized by her husband) urge Riccardo to leave  (Odi tu come fremono cupi). He agrees, but only if Renato escorts Amelia to the city gates without asking who she is. The conspirators arrive as Riccardo escapes. They taunt Renato about the mysterious woman he is with, and demand to see her face. Renato declares that he will fight them rather than allow this. To protect her husband Amelia removes her veil. The conspirators laugh at the couple for their midnight rendezvous (Ve' se di notte qui colla sposa). Renato is furious and accuses Amelia of infidelity. The conspirators depart – but not before Renato has arranged a rendezvous with Samuel and Tom for the next morning.
ACT III
Scene 1: Renato's home
Renato plans to kill his adulterous wife, but she insists that she has not betrayed him, and begs to see their child (Morrò, ma prima in grazia). Renato agrees. Alone, he curses Riccardo and laments his lost love (Eri tu).
When Samuel and Tom arrive, Renato tells them that he knows of their plans and wants to help. The three swear blood brotherhood (Dunque l'onta di tutti sol una). Renato forces Amelia to draw lots to select Riccardo's murderer: she picks Renato's name. Oscar comes with invitations to the evening's masked ball. Oscar bubbles with excitement at the prospect of
a party, Amelia dreads what will happen, while Samuel, Tom and Renato finesse their plans (Di che fulgor).
Scene 2: Riccardo's study
Riccardo has decided he must send Renato and, sadly, Amelia abroad. He feels a presentiment of death (Ma se m'è forza perderti). Oscar brings an anonymous note warning Riccardo that an assassin will be at the ball, but he ignores the warning in order to see Amelia one last time.
Scene 3: The ballroom
The conspirators exchange secret passwords and search for Riccardo among the masked guests. Renato tries to discover what Riccardo's costume is from Oscar, who initially refuses (Saper vorreste) but gives way when Renato says he is on urgent business. Amelia finds Riccardo, and urges him to leave at once. Riccardo tells Amelia that she is to leave the country with her husband, and again says he loves her. As the couple say a final goodbye, Renato shoots Riccardo. Renato's mask is pulled off and the guests seize him. But Riccardo orders them to release Renato. He assures his former friend that he never betrayed him with Amelia (Ella è pura), says farewell to his people and dies. The guests are left in shock.