Main content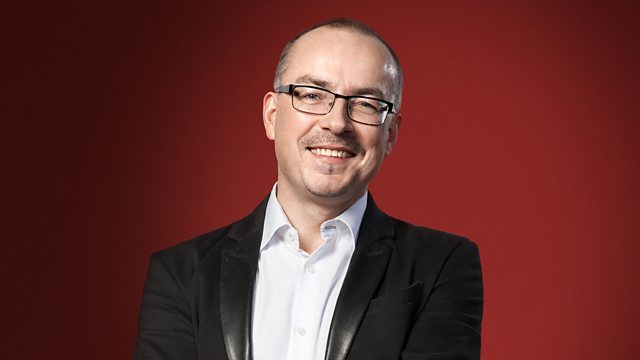 Building a Library: Dvorak: String Quartet
With Andrew McGregor. Including Building a Library: Dvorak: String Quartet; Operas by Handel, Hasse, Saint-Saens and Donizetti; Disc of the Week: Scriabin: Piano Concerto.
9.00am
Zdenek Fibich: Orchestral Works, Vol. 4
FIBICH: A Night at Karlstejn Castle: Overture; Comenius - Festival Overture; The Jew of Prague - Tragedy: Overture; Hedy: Ballet Music; Hippodamia's Death - Melodrama: March; Prologue to the opening of the New Czech Theatre - Tableau vivant; The Great Musical Monograph of the Building of the National Theatre - Tableau vivant; Music for the Celebration of the 300th Anniversary of the Birth of Jan Amos Comenius - Tableau vivant
Czech National Symphony Orchestra, Marek Štilec
NAXOS 8573310 (CD budget)
Suk: Complete Works for String Quartet, Piano Quintet
SUK: Ballade in D minor Op. 3b; Barcarolle for 2 Violin, Viola and Cello in B flat major; Meditation on the Old Czech Chorale Saint Wenceslas for String Orchestra Op. 35a; Piano Quintet in G minor Op. 8; String Quartet in B flat Op. 11; String Quartet in B flat Op. 31; String Quartet movement in B flat major; Menuet in G major
Matthias Kirschnereit (piano), Minguet Quartet
CPO 7776522 (2CD mid-price)
Mozart: Horn Concertos & Horn Quintet
MOZART: Horn Concertos Nos. 1-4 (complete); Horn Quintet in E flat, K407
Pip Eastop (natural horn), The Hanover Band, Anthony Halstead (conductor), the Eroica Quartet
HYPERION CDA68097 (CD)
Road Trip: Aurora Orchestra
ADAMS, J: Chamber Symphony
COPLAND: Appalachian Spring
IVES, C: The Housatonic at Stockbridge
SIMON, P: Hearts and Bones
TRADITIONAL arr. Nico Muhly: Reynardine; The Brown Girl
Sam Amidon (vocals and guitar), Dawn Landes (vocals), Aurora Orchestra, Nicholas Collon (conductor)
WARNER CLASSICS 2564632791 (CD)
09.30am Building a Library
Robert Philip compares recordings of Dvorak's much-loved String Quartet known as the American Quartet, and makes a personal recommendation.
DVORAK: String Quartet No. 12 in F major Op. 96 'American'; String Quintet No. 3 in E flat major Op. 97 'American'
Anna Deeva, Keller Quartet
APEX 0927443552 (CD budget)
10.15am
BACH, J S: Kothener Trauermusik, BWV244a
Sabine Devielhe, Damien Guillon, Thomas Hobbs, Christian Immler, Pygmalion, Raphael Pichon
HARMONIA MUNDI HMC902211 (CD)
JS Bach: Suites Anglaises Nos 2 & 6 & Italian Concerto
BACH, J S: Chorale Prelude BWV691 'Wer nun den lieben Gott lasst walten'; Fantasia & Fugue in A minor, BWV944; English Suite No. 2 in A minor, BWV807; Chorale Prelude BWV690 'Wer nun den lieben Gott lasst walten'; Chorale Prelude BWV728 'Jesu, meine Zuversicht'; Italian Concerto, BWV971; Chorale Prelude BWV706 'Liebster Jesu, wir sind hier'; English Suite No. 6 in D minor, BWV811
Pierre Hantai (harpsichord)
MIRARE MIR251 (CD)
BACH, J S: The Well-Tempered Clavier, Books 1 & 2
John Butt (harpsichord)
LINN CKD463 (4CD budget)
BACH, J S: Mass in B minor, BWV232
Lydia Teuscher (soprano), Ida Falk Winland (soprano), Tim Mead (countertenor), Samuel Boden (tenor), Neal Davies (bass), Arcangelo, Jonathan Cohen (conductor)
HYPERION CDA68051/2 (2CD mid-price)
10.50am Sarah Lenton's Operas
Sarah Lenton joins Andrew live in the studio to discuss recent recordings of operas by Handel, Hasse, and Saint-Saens and Donizetti's most popular opera Lucia di Lammermoor. 
HASSE, J A: Siroe re di Persia
Max Emanuel Cencic (Siroe), Franco Fagioli (Medarse), Julia Lezhneva (Laodice), Juan Sancho (Cosroe), Mary-Ellen Nesi (Emira), Laureen Snouffer (Arasse), Armonia Atenea, George Petrou (conductor)
DECCA 4786768 (2CD mid-price)
HANDEL: Faramondo
Emily Fons (Faramondo), Anna Devin (Clotilde), Anna Starushkevych (Rosimonda), Njal Sparbo (Gustavo), Maarten Engeltjes (Adolfo), Christopher Lowrey (Gernando), Edward Grint (Teobaldo), Iryna Dziashko (Childerico), FestspielOrchester Gottingen, Laurence Cummings (conductor)
ACCENT ACC26402 (3CD mid-price)
DONIZETTI: Lucia di Lammermoor
Diana Damrau (Lucia), Ludovic Tezier (Enrico Ashton), Joseph Calleja (Edgardo Di Ravenswood), David Lee (Lord Arturo Bucklaw), Nicolas Teste (Raimondo Bidebent), Marie Mclaughlin (Alisa), Andrew Lepri Meyer (Normanno), Munchener Opernchor, Orchestra, Jesus Lopez-Cobos (conductor)
ERATO 2564621901 (2CD mid-price)
SAINT-SAENS: Les Barbares
Catherine Hunold (Floria), Julia Gertseva (Livie), Edgaras Montvidas (Marcomir), Jean Teitgen (Le Recitant / Scaurus), Shawn Mathey (Le Veilleur), Philippe Rouillon (Hildibrath / Le Grand Sacrificateur), Tigran Guiragosyan (Premier Habitant), Laurent Pouliaude (Second Habitant), Ghezlane Hanzazi (Une Femme), Choeur Lyrique et Orchestre Symphonique Saint-Etienne Loire, Laurent Campellone
EDICIONES SINGULARES ES1017 (2 CDs + Book)
11.45am Disc of the Week
Scriabin & Medtner: Piano Concertos
MEDTNER: Piano Concerto No. 3 in E minor Op. 60 'Ballade'
SCRIABIN: Piano Concerto in F sharp minor Op. 20
Yevgeny Sudbin (piano), Bergen Philharmonic Orchestra, Andrew Litton (conductor)
BIS BIS2088 (Hybrid SACD)