Main content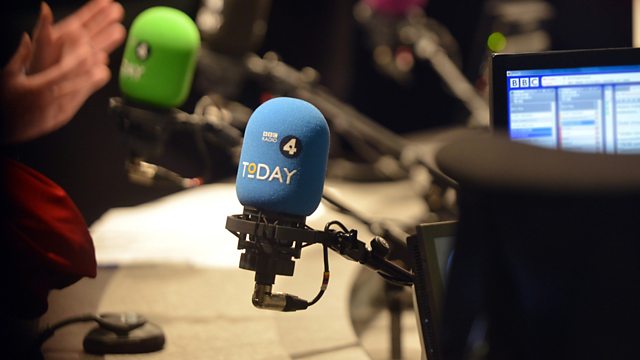 14/01/2015
Morning news and current affairs. Including Sports Desk, Yesterday in Parliament, Weather and Thought for the Day.
Last on

Clips

Today's running order
0650

The free market Adam Smith Institute has come up with what it says is a solution to London's housing crisis: build a million homes on the green belt. Tom Papworth has written the Institute's report, we're also joined by Helen Marshall of the Campaign to Protect Rural England.

0710

The leaders of the Labour Party, the Liberal Democrats and UKIP have written identical letters to David Cameron saying it is "unacceptable" for him to refuse to appear in the election's television debates. Nick Robinson is our political editor.

0712

Britain could experience negative inflation over the coming months without any significant risk to the economy, George Osborne will argue on Wednesday in a speech. The Chancellor will say we should "celebrate" not "fear" plummeting inflation. He will argue that yesterday's halving of inflation, being caused by falling oil prices, is a new development, and a different phenomenon to the one countries in the Eurozone have been experiencing for some time. Danny Alexander is chief secretary to the Treasury.

0715

Poor diabetes care in England is leading to avoidable deaths, record rates of complications and huge costs to the NHS, a charity is warning. In its annual snapshot, Diabetes UK says the disease is the fastest growing health threat of our times and despite the NHS spending 10% of its budget treating the condition, current care models are not working to get on top of the problem. Jonathan Valabhji is national clinical director for obesity and diabetes for NHS England.

0725

Scientists say they've made a forensic breakthrough in the fight against bird crime. A team in Scotland has been able to recover fingerprints from the feathers of birds of prey, which are under threat from illegal poisoning, shooting and trapping. If the birds have been handled, the prints could help police to identify the suspect. Helen McMorris is a forensic scientist & lead researcher.

0730

The first edition of Charlie Hebdo since the attack on its offices which killed 12 people goes on sale today. The front cover depicts the Prophet Mohammed shedding a tear and holding a sign saying 'Je Suis Charlie' beneath the words "all is forgiven". 3 million copies of edition 1178 of the magazine have been printed, compared to 60,000 in a typical week. It will go on sale in 25 countries, and is available in six languages. Sara Khan is co-director of the counter-extremism and women's rights organisation Inspire. Nicolas Vadot is a Belgian cartoonist.

0740

The British Museum has unveiled the latest addition to its collection.  It is an entire new building, The World Conservation and Exhibition Centre, which will house its conservation and scientific departments. Tom Feilden reports.

0750

The BBC has been given special access in Sierra Leone to the first ever Ebola treatment centre specialising in care for pregnant women. The death rate for pregnant women is extremely high according to the medical charity Medicines Sans Frontier. Professor Trudie Lang is from the Centre for Tropical Medicine at the University of Oxford.

0810

The new issue of Charlie Hebdo is published today with a print run of up to three million copies. British Imans are counselling Muslims to respond with peace and tolerance in the face of the cartoon of their prophet on the cover.  We speak to Chief Constable Sir Peter Fahy and Sadiq Khan MP, Labour shadow justice secretary.

0820

Britain could experience negative inflation over the coming months without any significant risk to the economy, George Osborne will argue on Wednesday in a speech. The Chancellor will say we should "celebrate" not "fear" plummeting inflation (see 0712). Robert Peston is our economics editor. James Lansdale is our deputy political editor.

0830

A rare alliance of UKIP, Labour and the Liberal Democrats is turning up the heat on the prime minister on leader's debates before the general election. David Cameron has rejected the three-debate formula put together by all the broadcasters on the grounds that the Greens aren't included. Now Ed Miliband, Nick Clegg and Nigel Farage have written identical letters to Downing Street saying they're willing to go ahead without him. Mr Farage, the UKIP leader, is in Strasbourg.

0840

The oil price has more than halved in the past six months, down from over $100 a barrel in June to $45 a barrel on Tuesday. Petrol prices will fall as a result. Food prices, too, because petrol is a large part of farmers' costs. How far do petroleum's oily tentacles extend throughout the economy? Rob Wood is chief UK Economist at Berenberg Bank and a former economist at the Bank of England.

0845

It is 11 years since the space probe Beagle 2 disappeared while attempting to land on Mars. The UK Space Agency has announced it will be giving an 'update' on the ill-fated British-led mission to Mars on Friday, fuelling speculation that the dustbin lid-sized probe has finally been found. Professor John Zarnecki is Emeritus Professor of Space Science at the Open University.

0850

The preoccupations of modern day feminism do little to serve the mass of women and instead push the agenda of 'elite women', according to Professor Baroness Alison Wolf who will argue in a lecture at the think tank Demos today that there is no evidence to suggest that things like 30% of women on company boards and all women shortlists in politics promote the cause of women in general. Professor Baroness Alison Wolf is professor of public sector management at King's College London. Bidisha is a writer and broadcaster.

All subject to change.
Broadcast