Main content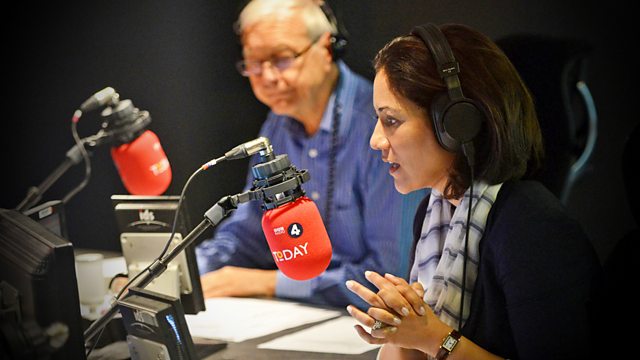 12/01/2015
Morning news and current affairs. Including Sports Desk, Weather and Thought for the Day.
Clips

Today's running order
0650

Radio Four's book of the week is called "Reaching Down the Rabbit Hole". It's by one of America's leading brain scientists, Allan Ropper, who is professor of neurology at Harvard medical school. He teaches his students to act like detectives, unlike other doctors who rely heavily on scans and tests. Dr Ropper joins us on Monday.

0710

A huge crowd of more than a million people demonstrated in Paris in protest at the murders at Charlie Hebdo last week. Our Europe correspondent, Chris Morris, was there.

0715

MPs will vote on an amendment to the Consumer Rights Bill today which would force ticket resale sites like Get Me In and Viagogo to publish additional information about the tickets they are selling on, such as the seat or serial number.  A number of senior figures in sport and entertainment are supporting the proposal, with the Rugby Football Union warning it may have to increase ticket prices if the amendment isn't passed. Oliver Wheeler is spokesman for Viagogo.

0720

Following the terror attacks in France, Fox News interviewed Steve Emerson, who describes himself as a "terrorism expert". During the interview, Mr Emerson claimed that Birmingham is "totally Muslim" and non-Muslims "simply don't go in" to the city. This resulted in a comic backlash on Twitter, with users expressing their outrage and disbelief at Mr Emerson's words. People began tweeting satirical comments about an Islamic Birmingham / Britain, using the hashtag #foxnewsfacts. Emerson later apologised for the gaffe. 

0725

A charity overseeing the commemorations for the bicentenary of the Battle of Waterloo is encouraging people to find out whether their ancestors fought in the battle. Hundreds of thousands of people living in the UK are estimated to have forbears who took part in the fighting on 18th June 1815. Around 350 people have already come forward to register the details of their ancestors. Christine Dabbs' great, great, great, grandfather's brother fought at the Battle of Waterloo.

0730

Broadcasters should "empty-chair" David Cameron if he refuses to take part in the general election TV leaders' debates, Ed Miliband has said. The PM has refused to participate unless the broadcasters' initial plans are changed to include the Green Party. Lord Grade is former chairman of the BBC and chief executive of ITV. Roger Mosey is former editorial director of the BBC & Director of BBC Television News.

0740

More than three million people have taken part in unity marches across France after 17 people died during three days of deadly attacks in Paris. Up to 1.6m are estimated to have taken to the streets of the French capital. Our chief correspondent Matthew Price is in Paris for this programme.

0750

The number of dairy farmers in England and Wales slipped below 10,000 for the first time at the end of 2014, halving in just 13 years. Those who remain are facing continual price drops and some are being told by processors they won't buy their milk at all. Last week, dairy processor First Milk told suppliers they won't be paid today, in order to boost its cashflow. David Handley is a dairy farmer and chairman of Farmers for Action. Meurig Raymond is NFU president.

0810

David Cameron is to meet security and intelligence chiefs today to discuss whether further action should be taken to defend Britain against terrorist attacks similar to the massacre at Charlie Hebdo magazine in Paris. The Prime Minister, who has travelled to Paris to join a rally in memory of the murdered journalists, said Britain faces a "very similar threat" from fanatical extremism and that it was important to learn the lessons from events in France. Gordon Corera is our Security correspondent. Professor Michael Clarke is director general of the Royal United Services Institute.

0820

The 72nd Golden Globes awards took place in Beverly Hills last night. British talent picked up four awards: Joanne Froggart received best supporting actress for Downton Abbey, Ruth Wilson was awarded best actress in a TV drama for the Affair and Eddie Redmayne received best actor in a drama for the Theory of Everything. During his speech, Redmayne paid tribute to Stephen Hawking, whom he played in the film. Alastair Leithhead is our LA correspondent.

0825

Two climbers who are attempting one of the most difficult rockfaces yet to be attempted are two or three days away from reaching the top.  It's the 900m unconquered side of El Captain, in Yosemite National Park.  The videos are terrifying, the drop is insane and they have been sleeping in suspended hammocks since 27th December. John Long is a climber, celebrated climbing author, and media manager for the climbing team.

0830

Over the weekend, Ed Miliband said the OBR should put together a national Living Standards Index - tracking and forecasting how people's finances are affected by changes to wages, prices, taxes and benefits.  He said it would be given equal status to GDP figures, which are currently one of the main indicators of living standards when it comes to policy discussions. Penny Young is chief executive of NatCen social research. Tim Harford is a FT columnist, More or Less presenter on Radio Four, and author of The Undercover Economist Strikes Back.

0835

Schools across Pakistan are re-opening today including the army Public school in Peshawar. It's almost a month since Taliban militants stormed the school premises and killed nearly 150 people most of them children. Shaimaa Khalil is the BBC's Pakistan correspondent.

0840

There is a common perception that the Qu'ran bans any depiction of the prophet Muhammad, and that Charlie Hebdo caused offence not only in how it depicted the prophet, but that they depicted him at all.  But this has not already been the case, and indeed there is a rich tradition of images of the prophet in Islamic art dating back to the 13th Century and before. Dr Sussan Babaie teaches on the arts of Iran and Islam at The Courtould Institute of Art.

0845

In nearly one in ten rail carriages the toilets flush straight on to the track. All trains built since 1990 have retention tanks, but the old system is still common. Research commissioned by the BBC Inside Out programme using microbiologists at Coventry University has suggested that people are exposed to potentially harmful bacteria as a result. Seb Gordon is from the Rail Delivery Group which represents the train operating companies and network rail.

0850

How far can you push someone when training them? And does the end justify the means, if a very harsh coach or trainer can create a world champion? Two new films explore this subject: Foxcatcher, which is about the world of wrestling, and Whiplash, a film released later this week. It's about a gifted and aspiring drummer's relationship with his very tough coach. 
Mark Bebbington is a leading English pianist, who trained with the legendary Italian/French piano god Aldo Ciccolini. Margot Wells is a performance and fitness coach who coached her husband Allan Wells to Olympic gold and silver in the 100 and 200m respectively at the 1980 Moscow Games.

All subject to change.