Main content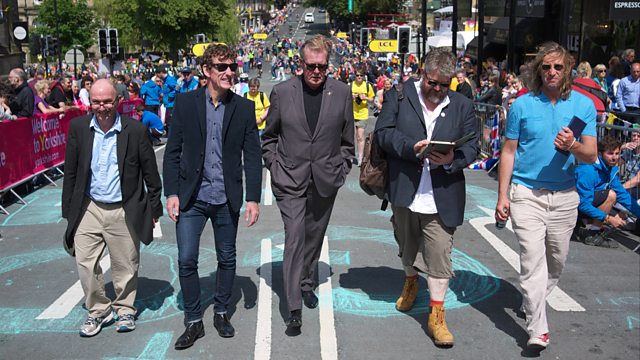 Fear and Loathing in Harrogate
Johnny Green comperes as Phill Jupitus, John Cooper Clarke, Simon Day and Mike Garry respond to events on the first day of the Tour de France's visit to Yorkshire.
Do you remember when the Tour de France came to Yorkshire ? When thousands upon thousands lined those sun-kissed moors and hills ? Cycling virgins John Cooper Clarke, Phill Jupitus, Simon Day and Mike Garry all respond to the day's proceedings at an evening of bike inspired performance, recorded on the first day of the race - poems, prose and jokes in Harrogate about one of last summer's most memorable events.
The evening was the brainchild of Johnny Green, former road manager of the Clash. First though he has to introduce his team of reprobates to the intricacies of the race, which they follow throughout the day. It is the crowd that inspires them the most, and the language is suitably rock and roll.
Simon Day appears as 'acclaimed' Yorkshire poet Geoffrey Allerton; Mike Garry is himself; Phill Jupitus rediscovers Porky the Poet; and John Cooper Clarke performs a heartfelt 'Ode to Bicycles' by Pablo Neruda.
Compere Johnny Green is author of Backstage at the Tour de France - 'conveys the magnificent bonkerness of le Tour rather well'.
The producer is Miles Warde.
Last on
Broadcasts