Main content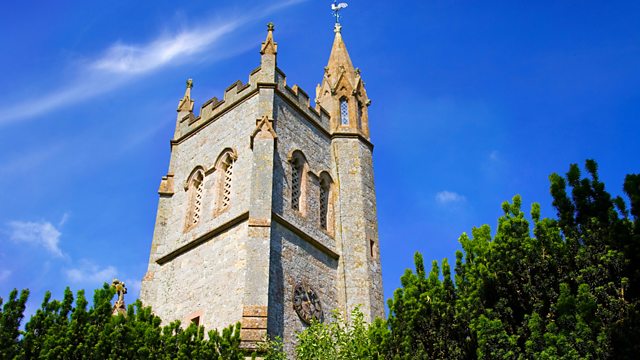 The Second Advent
From Croydon Seventh Day Adventist Church. Distinctives of Seventh Day Adventist beliefs celebrate the return of Jesus Christ to bring justice and restoration.
From Croydon Seventh Day Adventist Church. Distinctives of Seventh Day Adventist beliefs celebrate traditional Christian teachings about the return of Jesus Christ to bring justice and restoration to the whole universe. The service also explores why Adventists take a weekly Sabbath rest, which, they believe, help Christians live healthy and Godly lives in their communities. The Croydon Seventh Day Adventist Gospel Choir is directed by Ken Burton. Preacher: Pastor Richard Daly. Producer: Philip Billson.
Croydon Seventh Day Adventist Church
Please note:
This script cannot exactly reflect the transmission, as it was prepared before the service was broadcast. It may include editorial notes prepared by the producer, and minor spelling and other errors that were corrected before the radio broadcast.
It may contain gaps to be filled in at the time so that prayers may reflect the needs of the world, and changes may also be made at the last minute for timing reasons, or to reflect current events.

OPENING ANNO FROM CON
And now on BBC Radio 4 it's time for Sunday Worship which comes from the Croydon Seventh-day Adventist church in South London. It was recorded at their Sabbath service yesterday and celebrates the joy that can be found in the hope of the second Advent of Jesus Christ. The preacher is the church's senior Pastor, Richard Daly, and the service is led by the First Elder Johnny Saul. The Croydon Gospel Choir with musical director Ken Burton at the keyboard join the congregation for the first hymn now: All Hail the Power of Jesus' Name.
HYMN: ALL HAIL THE POWER OF JESUS' NAME
Ellor / Perronet
JOHNNY: Good morning. Only a few weeks ago in December the world was observing the First Advent, the coming to earth as a baby of Jesus Christ, God with us yet Lord of the Universe. Christians believe he was put to death on a cross to save us from sin and death, and that he rose again as a sign that we too will triumph over the last enemy, death and so give us hope for the future. In today's service we want to celebrate the fulfilment of that hope that we find in the bible's promise that Jesus will soon return - this time not as a babe in Bethlehem, but as King of Kings and Lord of Lords.
The hope of a heavenly eternal life as a result of the imminent second Advent is at the heart of who we are as Adventists -  in fact, it's in our name: Seventh-day ADVENTIST.
Marlene Levy is one of several members of our congregation with close personal links to Paris. She will begin our opening prayer in French as we bring before the Lord the tragic circumstances of the events in Paris this week. We pray for the whole French nation, for peace in the communities there, and for comfort for those bereaved.
MARLENE LEVY: Prayer in French….
Notre Dieu, Createur des cieux et de la terre,  nous te louons et te remercions pour tes bienfaits.
Nous te présentons tout particulièrement  le peuple Français en France et ailleurs qui a été  durement éprouvé  cette semaine
Donne de la sagesse et du courage à notre président, au gouvernement et à tous ceux qui sont impliqués dans la sécurité de notre nation. Accorde ta paix  a ceux qui ont perdus des être chers. Au nom de Jesus nous te prions.........Amen
MARLENE THEN PRAYING IN ENGLISH:
"Our creator God, you who made this world in six days and rested on the Seventh-day. We come to worship you.
We bring before you the many situations in our world where evil flourishes and goodness is trampled underfoot.
Father, cleanse us from our sins as we commit our thoughts, words and songs to you.
We also pray for those joining us in worship. We pray they will receive a special blessing from you. In Jesus 's name, Amen …..
ALL: Amen.
JOHNNY: In our service today, we want to share with you why both looking forward to the  second Advent of Jesus, and observing the biblical Seventh-day Sabbath are sources of such excitement and enthusiasm in our everyday lives. "Come, Thou almighty King."
Come, Thou almighty King,
Tune: Giardini
JOHNNY:
The question may be asked – why is this Christian church celebrating the biblical Sabbath on Saturday?     Well scripture makes clear , for example in John 19:42, that Christ was crucified on preparation day for the Sabbath and most within Christendom rightly acknowledge that day to be Friday - now called Good Friday.
Luke 24:1 and John 20:1 for instance states that the disciples saw the empty tomb on first day of the week, – many within Christianity mark this resurrection day as Sunday or  Easter Sunday.   If Sunday then is the first day of the week, then the seventh we believe is Saturday – a day that Luke 4:16 says Jesus kept Holy while on earth. We as Seventh-day Adventists believe that we too must follow the example of Jesus Christ.
After our first reading from the bible there will be a short comment about Sabbath Rest by Dr Chidi Ngwaba who is a member of our congregation here.
Our reader today is a voice familiar to many, Neil Nunes.

NEIL: A reading of Scripture from Genesis Chapter two verses one to three:
"Thus the heavens and the earth were finished, and all the host of them. 2 And on the seventh day God ended his work which he had made; and he rested on the seventh day from all his work which he had made. 3 And God blessed the seventh day, and sanctified it: because that in it he had rested from all his work which God created and made."

Dr Chidi Ngwaba:
Here we are in 2015, the festive period is well and truly over, and the only thing that remains of the Christmas & New year celebrations, are the expanded waistlines which remind us that perhaps we over-indulged, ever so slightly, during the holidays.
We're back to our normal working routines. I like what American journalist and Pulitzer prize winner Ellen Goodman wrote about our Normal routines:
"Normal is getting dressed in clothes that you buy for work
and driving through traffic in a car that you are still paying
for, in order to get to the job you need, to pay for the clothes
and the car, and the house that you leave vacant all day so
you can afford to live in it."
Yes, our normal routines lead to our busy lives. In fact "Busy" is how many people describe themselves.
The danger is when the busy life, becomes the stressful life. As a doctor I see everyday how Stressful living robs people of  Physical, Emotional & Spiritual Wellbeing. The one thing that they need, is the one thing they find hardest to do. Rest!
In fact that is one of the reasons why God gave us the Sabbath day. One day out of the seven where we can literally Rest in Peace, where Physical, Emotional & Spiritual Healing & Restoration can take place. Far from being a Burden, this commandment from Exodus Chapter 20 and Verse 10 is a Blessing:
"The seventh day is the sabbath of the LORD thy God: in it thou shalt not do any work, thou, nor thy son, nor thy daughter, thy manservant, nor thy maidservant, nor thy cattle, nor thy stranger that is within thy gates"
Like all of God's commandments, it doesn't tie us down but frees us to Live Life to the Full in Body, Mind & Spirit.
So as we race through 2015, how about making keeping The Sabbath one of your New Year's resolutions. It's a prescription from The Supreme GP, Jesus Christ…
The Great Physician.

JOHNNY: Among the 18 million Seventh-day Adventist worshipers in more than 200 countries around the world -  there's one scripture that is quite well known and repeated often during our worship services many a Sabbath across the various time zones .
 The scripture  is a promise - made by our Lord Jesus - and we know Jesus never makes a promise He doesn't intend to keep.
And so we as a church now repeat together - John Chapter 14 verses one to three:
ALL, with Johnny: "Let not your heart be troubled: ye believe in God, believe also in me. In my Father's house are many mansions: if it were not so, I would have told you. I go to prepare a place for you. And if I go and prepare a place for you, I will come again, and receive you unto myself; that where I am, there ye may be also."
CROYDON SDA GOSPEL CHOIR: COME AND GO WITH ME
Words: Traditional  Song
Tune: Ken Burton

JOHNNY: In a moment Pastor Richard Daly will us this morning's sermon – but before he comes us – we shall have a Prayer by Sister Verna-Gean Gervais.
"Let us pray - once again Dear Lord we come before your presence.
As we get ready O Lord for the presentation of the sermon in a few moments, we ask that you anoint with your Holy Spirit, Pastor Richard Daly so the words He speaks will flow with life-giving power from you.
At this moment too Lord we pray for all those participating in worship with us who have various needs and concerns, especially anyone experiencing pain or sickness.
We ask that you soothe all troubled minds, reassure the anxious and bring peace to the perplexed.
Father, our world is constantly being beset by tragedies - Comfort those who mourn O Holy Spirit and bring hope to those who are losing hope.
Lord we pray for our country - we ask that your hand of mercy will continue to rest upon this land. Jesus we pray all these things in your Holy name –
ALL: Amen."

CHOIR RESPONSE: "Let the words of my mouth; and the meditation of my heart be acceptable in your sight. O Lord" Psalm 19:14, Tune: Let The Words , Ken Burton
Pastor Richard Daly
Reference tragic events in Paris? And the airliner?
As we begin the second week of a new year … questions always come to the forefront of our minds during this time about how things will shape out for my future?
You may be quietly concerned or maybe even fearful about what the future holds.
Will the world be a better place - for my children?
- Will I be left alone in my old age?
- Will I have enough to make ends meet?
- What about my failing Health, will things deteriorate?
- Who will look after me when I can't care for myself?
On a larger scale we also think about what our world will be like in 2015
Will extreme Terrorism change so that we see mass ethnic and religious
cleansing?
(alternative: On a larger scale we also think about what our world will be like in 2015
Will extreme Terrorism continue to take hold – we think of events this week in France and the atrocities carried out in Northern Nigeria.
We think about tragedies too such as the AirAsia disaster – will 2015 bring even more such pain?)
-
Will diseases such as Ebola or heart disease or cancer continue to spread at a
relentless pace?
-
These are genuine fears that flicker on and off in our minds as we go through life each day.
One of many surveys you can find on the internet  signifying the top five fears in adults today lists as follows:
5) The fear of being alone
4)Fear of rejection
3)Fear of death
2)Fear of failure
The top one that posed to be the most challenging was
 
1)The fear of the unknown
------ this is easily explained like this: the mind tells us that in order to move
forward, we must know what is waiting for us there, because "if I know, then I
can control the situation, and if I don't know, then I am not in control" and we
like to be in control.
However the good news about wanting to know about the future -- is what is
expressed in Gods word, for the word of God unveils the future.
Despite all the tragedies we see before us, the uncertainties and dismay ushering
in fear and pessimism, the scriptures reveal that the true source of such atrocities
lies solely with the enemy. The devil is the root of all evil that we see in the world
today…but amidst all this, the words of hope and promise come to us from--
John 14 verses 1to3, words our congregation spoke together earlier:
"Let not your heart be troubled, ye believe in God believe also in me. In my father's
house are many mansions, if it were not so I would have told you. I go to prepare
a place for you and if I go to prepare a place for you I will come again and receive
you into myself that where I am there you will be also."
One of Christ's last Promises was that he would return again to make all things
new.
In the midst of all the chaos and distortion that we see in our world In a time when people's hearts are failing them for fear In a time of Economic and political uncertainty there is a true word of hope
Christ in all assurance and permanence says to us … I will come again .." And
weeping and mourning will flee away"
The last words to his watching disciples as he departed earth (acts
1:8--11)—were  "this same Jesus that was taken up from among you will in like
manner so return."
Words reminiscent of the Terminator -- christ says " I will be back!"
This same Jesus will return
Christ's second advent is the hope of the world
Embedded in the Apostles Creed as taught by Christendom today
We read that after Christ's death burial and resurrection ..that
"He ascended into heaven, and sits at the right hand of God the Father Almighty:
7. From thence he shall come to judge the quick/living and the dead:"
The second advent of Christ is a universal message believed by all Christian
churches today that is rooted in scripture:--
2Ti 4:1 "I charge thee therefore before God, and the Lord Jesus Christ, who shall
judge the living and the dead at his appearing and his kingdom;"
The words 'judge the living' is not something to be fearful of .. With Christ on your
side you have nothing to fear, for he is your Saviour, your advocate, and your
defender.
It is a hope that something better is coming.
So whether you have a fear of loneliness
The Words of hope from Christ says 'where I am there you will be also'
If there is a fear of rejection--
Christ's Words of hope are that -- in my Father's house are many mansions --there will
be no room for rejection but the invitation is open to all to spend eternity with
him
If there is a Fear of death --
The results are
So with Christ, there is no need for fear of the future for Christ is already in our
future.
He is the same yesterday, today and for ever
And his promises are sure --
He is the hope of the world!
The Words of hope are that -- Christ is the resurrection and the life --
History's coming coming climax will not be ------
Some Man made destruction
Not be some natural disaster
Neither some meteor from outer space to destroy the world
History's coming climax with be the return of Jesus christ in all his glory.
Jesus Christ will have the last say about how things will end
The Bible says when Christ comes it will be a visible event----
Rev 1:7 Behold he comes in the clouds and every eye shall see him
He will be Coming with all his holy Angels
He will be coming Power and great glory
Matthew 24 ----tells us "As lightening flashes from the east to the west so shall the coming of the Son of Man be."
It will be a spectacular event
It will be a glorious event
An event no human eye can completely picture
When Christ returns with majesty it will be a sight to behold.
When Christ comes not only will we not fail to see him but we will not fail to hear him
1 thess 4:16 says "For the Lord shall descend from heaven with a shout and with the voice of
the archangel ------and with the trump of God. And the dead in Christ shall rise first."
Then we which are alive and remain shall be caught up to meet the Lord in the air and so we shall ever be with the Lord .. Therefore comfort one another with these words"
The apostle Paul tells us the return of Christ ought to be comforting to us.
He will be coming to finally put an end to sin and suffering and pain as we know it
Ushering in a world of restoration and renewal where all 'things are made new'
The question is often asked how soon will Christ return?
A couple of tourists were admiring the beautiful grounds of a garden that belonged to a
Stately house. They were awed at how beautifully the gardens were arranged and
flowers arrayed in splendour. They could not but help comment to the gardener at how
wonderful a job he was doing and remarked. " the owner of the house must be very
pleased with you?"
The gardener responded "I'm sure he is when he returns"
"you mean the owner has not seen how well you keep his gardens" ? They remarked
surprisingly.
"Well," the gardener responded "he lives oversees, but he pays me each month
faithfully for my work."
"well you keep these gardens as though you expect him to come back tomorrow,"
replied the tourists.
"Well not quite said the gardener, "I keep these gardens beautiful becauseI I expect the
master of the house to come back today."
Yes Jesus Christ is coming in all assurity and we can see from the world events around
us and the signs being fulfilled, that Christ's coming is imminent.
He will come at a time when we least expect it. We ought to be prepared as though
Christ were coming back today.
If there were to be one resolution that we want to keep throughout this year, let it be
that we will purpose in our hearts that whatever life's unexpectancys come our way,
we will continue to walk closely with our Lord.
And one day soon we will see him return as king of kings and Lord of lords.
Hope of the Second Advent

MUSIC:
HOW FAR FROM HOME
Annie Smith
Tune: 'Tis Midnight Hour
3 soloists and choir.

 (FINAL SCRIPTURE)
 NEIL:
A reading of Scripture from Revelation chapter 21 verses 2 to 4
And I John saw the holy city, new Jerusalem, coming down from God out of heaven, prepared as a bride adorned for her husband. And I heard a great voice out of heaven saying, Behold, the tabernacle of God is with men, and he will dwell with them, and they shall be his people, and God himself shall be with them, and be their God.  And God shall wipe away all tears from their eyes; and there shall be no more death, neither sorrow, nor crying, neither shall there be any more pain: for the former things are passed away.
HYMN:
Guide me, O thou great Redeemer,
Words: William Williams, 1745;
trans. Peter Williams, 1771, alt.
Music: Pilgrimage, Cwm Rhondda,

Pastor R Daly:
Thank you for joining us in worship today. The great American gospel singer, song writer and arranger Andre Crouch died last Thursday. The choir will sing us out to one of his best known songs: "Soon and very soon."
Now unto him that is able to keep you from falling, and to present you faultless before the presence of his glory with exceeding joy,
25 To the only wise God our Saviour, be glory and majesty, dominion and power, both now and ever. Amen.
MUSIC:
Soon and Very Soon – Andre Crouch