Main content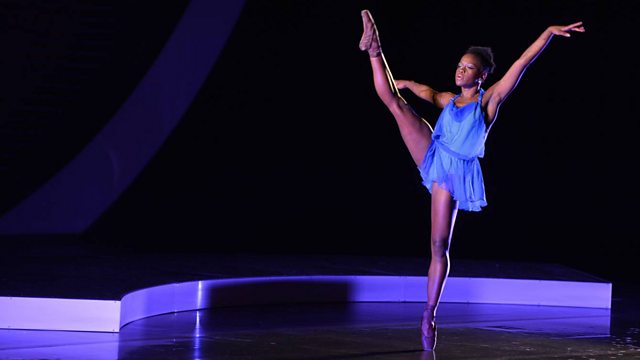 Michaela DePrince; Gender Pay Gap
Includes Michaela DePrince, who went from a Sierra Leone orphanage to dancing for the Dutch National ballet, the gender pay gap, and will women's magazines survive the digital age?
Michaela DePrince talks about being orphaned in Sierra Leone and adopted by American parents and how her dream to become a dancer was inspired by a picture in a magazine.
We hear from the Labour MP who introduced a bill in December calling for big companies to reveal their gender pay gap. Whilst the majority of MPs backed the proposed legislation, seven Conservative MPs didn't. We hear from Labour's Sarah Champion who proposed the bill and Adam Afriyie who voted against it.
What is the future of women's magazines in a digital world? The Tate Galleries in London, Liverpool, and St Ives have unveiled an unprecedented line up of female artists for 2015 - we discuss the highlights.
We hear from a listener calling for a Royal Commission on murder to take place after her friend was killed by her estranged husband.
Four women who lead Royal Colleges talk about medicine as a profession for women and whether barriers to leadership roles are finally breaking down. And we ask whether adult children still living at home should pay rent?
Presented by Jane Garvey
Producer: Rabeka Nurmahomed
Editor: Jane Thurlow.
Equal Pay
Sarah Champion, the Labour MP for Rotherham introduced a bill on December 16th 2014 calling for big companies to reveal their gender pay gap. A majority of 258 MP's backed the proposed legislation that would make it compulsory for companies with more than 250 staff to be transparent about the difference between male and female pay.  7 male conservative MP's voted against 
The Equal Pay Transparency bill
 including the MP for Windsor, Adam Afriyie. Both Sarah and Adam join Jane to discuss how best to ensure pay equality in 2015, why Adam opposes the bill and how likely it is that the bill will be backed by the government and eventually become law. 
The Future of Women's Magazines
Women at the Tate 2015
The Tate Galleries
 in London, Liverpool and St Ives has unveiled an unprecedented line up of Women artists for 2015, including a Marlene Dumas exhibition; the first ever UK Sonia Delaunay retrospective; the first Barbara Hepworth exhibition in almost 50 years and the displaying of Tracey Emin's famous 'My bed'.  Jenni is joined by Head of International Collections Frances Morris who will be telling us about some of the highlights.
Refuge and Domestic Violence Series - Nicky Morgan, Women's Minister
Over the past couple of months we have been running a series on domestic violence and the funding crisis faced by refuges all across the country. The government recently injected £10 million into the national network of refuges and just before Christmas psychological and emotional abuse was made a criminal offence with a potential lengthy prison term. But with rising cases of domestic violence is more legislation and a one off large sum enough to maintain such a vital service in the long term? Nicky Morgan, Women's Minister, responds to some of the concerns raised on Woman's Hour. And Polly Neate, CEO of Women's Aid also joins Jenni in the Woman's Hour studio.
For more information on this issue please click the links below: 
Leading Women in Medicine
For years, men dominated medicine and women faced numerous obstacles to advancing their careers.  Are they finally breaking down barriers to leadership roles in medicine? 
Jane Garvey talks to four women who lead Royal colleges, Miss Clare Marx,Prof Jane Dacre, Prof Carrie MacEwen and Dr Suzy Lishman, about medicine as a profession for women and what they hope to achieve by taking on these roles. 
Michaela DePrince
Michaela DePrince
 was orphaned in Sierra Leone, adopted by American parents and is now a professional ballerina. Michaela talks about her life and how her dream to become a dancer came after a faded picture blew into her orphanage gates.
Charging Children Rent
The average age of buying your first house was revealed to be 30 this week, and as many landlords are predicting rent increases in 2015, record numbers of young adults now live at home with their parents. More than 3.3 million 20-34 year olds live at home, and it's getting harder for children to fly the nest. But what about the impact it has on the parents, and should those parents charge rent? Jenni's joined by parenting expert Sue Atkins and Financial Journalist Annie Shaw.
Credits
| Role | Contributor |
| --- | --- |
| Presenter | Jane Garvey |
| Interviewed Guest | Sarah Champion |
| Interviewed Guest | Adam Afriyie |
| Interviewed Guest | Lorraine Candy |
| Interviewed Guest | Debbi Evans |
| Interviewed Guest | Sue Peart |
| Interviewed Guest | Frances Morris |
| Interviewed Guest | Hetti Barkworth-Nanton |
| Interviewed Guest | Alison Levitt |
| Interviewed Guest | Clare Marx |
| Interviewed Guest | Jane Dacre |
| Interviewed Guest | Carrie MacEwen |
| Interviewed Guest | Suzy Lishman |
| Interviewed Guest | Michaela DePrince |
| Interviewed Guest | Annie Shaw |
| Interviewed Guest | Sue Atkins |
| Producer | Rabeka Nurmahomed |
| Editor | Jane Thurlow |