Main content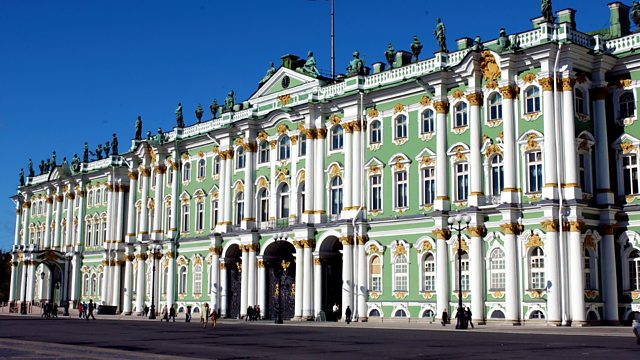 Hermitage Revealed
Film revealing the stories that have shaped St Petersburg's State Hermitage Museum's 250-year journey from imperial palace to state museum, and what makes it unique today.
The State Hermitage Museum in St Petersburg is one of the largest and most visited museums in the world. Margy Kinmonth's film tells the story of its journey from imperial palace to state museum, investigating remarkable tales of dedication, devotion, ownership and ultimate sacrifice, showing how the collection came about, how it survived tumultuous revolutionary times and what makes the Hermitage unique today.
Holding over three million objects and boasting more curators than any other museum, the Hermitage's story is Russia's history in microcosm and its art has lived to tell the tale. The film brings together the oldest, the rarest, the most precious and the most closely guarded of Russia's greatest treasures, including priceless works by Rembrandt, Rubens, Titian, Da Vinci, Michelangelo and modern masterpieces by Matisse, Gauguin, Van Gogh and Picasso, some of which never leave Russia.
The film accesses the museum's director Professor Mikhail Piotrovsky, expert curators, historical eyewitnesses and rare archive from the Siege of Leningrad to reveal the workings of the Hermitage, going behind the scenes to observe the restorers, artists, archives, trophy art and hidden treasures not on show to the public.
Kinmonth's cameras travel through doorways, galleries and even underground to find the colony of cats which has lived on the heating pipes in the basement since the time of Catherine the Great. The film also brings the Hermitage's story up to date with a visit to the specially built open storage facility which houses objects behind a kilometre of glass corridors, and features contributions from contemporary artists including Antony Gormley and architect Rem Koolhaas.
Clips