Main content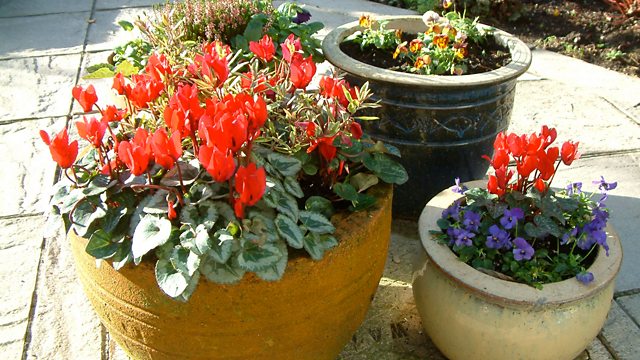 West Yorkshire
Eric Robson hosts the horticultural panel programme from West Yorkshire. Taking questions from local gardeners are Bob Flowerdew, Christine Walkden and Matthew Wilson.
Eric Robson hosts the horticultural panel programme from West Yorkshire. Bob Flowerdew, Christine Walkden and Matthew Wilson take questions from an audience of local gardeners.
Produced by Howard Shannon
Assistant Producer: Hannah Newton
A Somethin' Else production for BBC Radio 4
This week's questions and answers:
Q. Can you grow fruit trees in containers and raised beds?
A. Yes, if they are on dwarfing stocks. Most modern Apple trees would be fine and the bigger the container the less watering they would need. Apricots and Peaches are surprisingly easy, so long as they are well sheltered. Try 'Tomcot', 'Flavourcot', 'Goldcot' Apricot varieties, and the 'Bonanza' Peach variety which likes being in a pot. Cherries wouldn't work so well though. Regular watering and a correct feeding pattern is the secret to growing fruit trees in containers.
Q. I live next to woodland, what is the most effortless way to prevent Brambles from invading my garden?
A. Dig out the plants as soon as they appear. Get a pair of Kevlar gloves so you can pull them up. Cut the roots with secateurs if you can't wrench them out. If the plants do take over, try making Blackberry vinegar - it's delicious. You could try training some across your fence to harvest the fruit. Put really thick mulch down (five or six inches) and this makes it easier to pull out the saplings.
Q. What plants would you recommend planting up against the red brick of Leeds' terraced housing?
A. Bob says avoid climbers because they can take over and are hard to keep under control. Try instead, Cotoneaster horizontalis or Pyracantha. Bunny disagrees with Bob and recommends a rambling Rose called 'Lady of the Lake' and an evergreen climbing Hydrangea, Hydrangea Seemannii. Grape vines would also work. Matthew recommends Itea Ilicifolia and Camsis radicans.
Q. How do you propagate Rosemary from an old plant?
A. Get the plant to put on new growth by giving it lots of water, feed it in the spring, cut it back a little and try to get more light on it. Take cuttings from the new growth. Use the layering technique - take a sprig through the hole of a plant pot, then fill with compost and this should take. The original plant should live for thirty of forty years if you cut it back every year to encourage fresh growth.
Q. What herbs or vegetables would the panel recommend growing in a hanging basket?
A. Mint would take well as would Marjoram. Avoid Tarragon, Parsley and Chervil as these tend to grow vertically. If you put two hanging baskets back to back you could grow Thyme in a kind of ball.
Q. I'm looking for low growing plants that would thrive in a very shady garden. What could you recommend?
A. Cyclamen, Lily of the Valley, Alchemilla Mollis, Pear Trees, Arbutus Unedo (Strawberry Tree), Ferns (Dryopteris Wallichiana, Erythrosora, Athyrium Niponicum), white Roses, white Foxgloves, Sweet Rocket, Japanese Anemones, Hydrangea Paniculata Unique and Daphnes. Keep it simple in a north-facing Garden with topiary pieces like Ilex Crenata (Japanese Holly) and Ferns such as Dryopteris wallichiana, Dryopteris erythrosora, Athrium japonicum (Japanese Painted Fern) and our own native version of Deschamsia Caespitosa 'Goldtau'.
Q. Two years ago I bought a Japanese Cherry Tree, Prunus Nipponica Brilliant and it flowers well each spring but then the new growth dies back - why is this happening?
A. This could be blossom end wilt which is passed by insects. The only thing you can do if this is the case is trim off the dead matter. This could also be happening because the plant is pot bound. Go and give it a good tug, if it comes out the ground then plant it again, properly!
Q. I'm struggling to grow Borage from seed. Any tips on how I can improve my chances of success?
A. Maybe the moisture levels are wrong. Buy a couple of plants and let it self-seed. Or, try getting seed from somewhere else - you might be sowing bad seed.
Last on
Broadcasts