Main content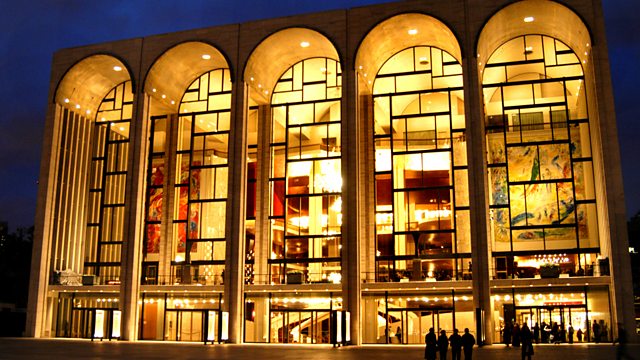 Humperdinck's Hansel und Gretel
Live from the Metropolitan Opera in New York, Andrew Davis conducts Humperdinck's opera Hansel und Gretel with Heidi Stober as Gretel and Jennifer Johnson Cano as Hansel.
Humperdinck's fairy-tale opera Hansel and Gretel, conducted by Andrew Davis, with Heidi Stober as Gretel & Jennider Johnson Cano as Hansel.
Presented by Mary Jo Heath and Ira Siff.
Gretel.....Heidi Stober (Soprano)
Hansel.....Jennifer Johnson Cano (Mezzo-soprano)
Gertrude.....Michaela Martens (Mezzo-soprano)
The Witch.....Robert Brubaker (Tenor)
Peter.....Dwayne Croft (Baritone)
New York Metropolitan Opera Orchestra
New York Metropolitan Opera Chorus
Andrew Davis (Conductor)
The Met's family entertainment for the holiday season is Richard Jones's witty production of Humperdinck's fairy-tale opera, conducted by Sir Andrew Davis, in which two children confront a wicked witch. In a lush setting of giant chefs, suit-clad trees, and an industrial kitchen where the Witch gets what's coming to her, Aleksandra Kurzak as Gretel and Jennifer Johnson Cano as Hansel star in one of the most magical operas in the repertory.
Synopsis
Act I 
In the broom-maker's house. Hansel complains he is hungry. Gretel shows him some milk that a neighbor has given for the family's supper. The children dance. Their mother returns and wants to know why they have got so little work done. She accidentally spills the milk and chases the children out into the woods to pick strawberries.
Their father, a broom-maker, returns home drunk. He brings out the food he has bought, then asks where the children have gone. The mother tells him that she has sent them into the woods. He tells her about the Witch who lives there, and that the children are in danger. They go out into the woods to look for them.
Act II 
In the woods. Hansel picks strawberries. The children hear a cuckoo singing and eat the strawberries. Soon they have eaten every one. In the sudden silence of the wood, Hansel admits to Gretel that he has lost the way. The children grow frightened. 
The Sandman comes to bring them sleep, sprinkling sand over their eyes. The children say their evening prayer. In a dream, they see 14 angels.
Act III 
The gingerbread house. The Dew Fairy comes to waken the children. Gretel wakes Hansel, and they see the gingerbread house. They do not notice the Witch. The Witch decides to fatten Hansel up and puts a spell on him. The oven is hot. Gretel breaks the Witch's spell and sets Hansel free. When the Witch asks her to look in the oven, she pretends she doesn't know how to: the Witch must show her. When the Witch peers into the oven, the children shove her inside and shut the door. The oven explodes. The gingerbread children come back to life. The mother and father find the children, and all express gratitude for their salvation. —Courtesy Welsh National Opera