Main content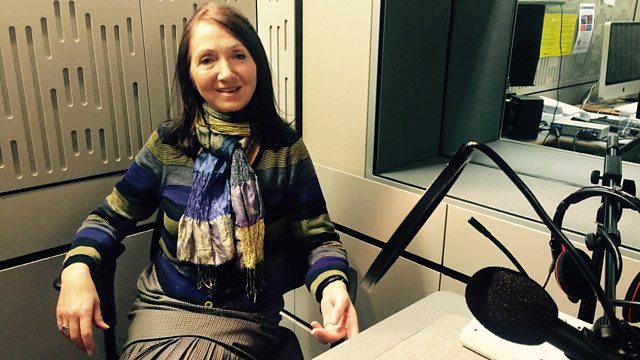 Jane Hawking; Surrogacy; Same Clothes Every Day; Safe Houses for Over-45s
Jane Hawking on the film of her life, 30 years since UK's first commercial surrogate mother, wearing the same clothes every day, and EVA Women's Aid's safe houses for the over-45s.
In 1965, a 21 year old student called Jane married a young and brilliant cosmologist, knowing that he was ill with Motor Neuron Disease and had been given only three years to live. But together they fought the disease and confounded all expectations. Fifty years on, Jane and her now ex-husband Professor Stephen Hawking are the subject of The Theory of Everything, a film based on Jane's autobiography Travelling to Infinity.
On Jan 4th 1985 Kim Cotton became the UK's first surrogate mother when she gave birth to "baby Cotton". The story shocked the nation when it was revealed that £6000 was paid to her for the baby. Kim Cotton went on to set up COTS - Childlessness Overcome Through Surrogacy in 1988, which gives help and advice to surrogates and childless couples in the UK. She joins Sheila with fertility law expert Natalie Gamble.
How much time do you spend deciding what to wear in the morning? Recently Karl Stefanovic, a television presenter from Australia, admitted to wearing the same suit every day for a year to make a point about the ways in which his female colleagues are judged - and claimed that during all that time nobody noticed. Mary Anne Hobbs who presents the weekend breakfast show on 6Music and Maria Malone, lecturer in fashion at the Manchester Metropolitan University Department of Apparel talk about how less might be more.
A new safe house for women who have been victims of domestic or sexual abuse and violence will be opening in the North East of England in January 2015. It's aimed at women aged 45 and over and thought to be the first of its kind in UK. Richinda Taylor, CEO of EVA Women's Aid and Wendy, who was in an abusive relationship for 15 years, join Sheila to explain why they would like to see more women over 45 seeking help.
Last on

Chapters
Jane Hawking

Duration: 13:18

Surrogacy

Duration: 09:34

Same Clothes Every Day

Duration: 10:32

Safe Houses for Over-45s

Duration: 08:15

Jane Hawking

In 1965, a 21 year old student called Jane married a young and brilliant cosmologist, knowing well that he was ill with Motor Neuron Disease and had been given only three years to live.  But together they confounded all possible expectations, the years have turned into decades, and they have become one of the most well known stories of endurance in twentieth century history. Fifty years on, Jane and her now ex-husband Professor Stephen Hawking are the subject of The Theory of Everything, a film based on Jane's autobiography Travelling to Infinity. Jane speaks with Sheila about what it is like to time travel back to those days, in a manner of speaking, in her own Brief History of Time.

Motor Neurone Disease Association

 

Kim Cotton and Surrogacy - 30 Years On

On Jan 4th 1985 Kim Cotton became the UK's first surrogate mother when she gave birth to "baby Cotton". The story shocked the nation when it was revealed that £6000 was paid to Kim Cotton for the baby. There then followed a media storm for the story.  It led to the government introducing the Surrogacy Arrangement Act which banned commercial surrogacy and only allowed for the payment of legitimate expenses.   Kim Cotton went on to set up COTS - Childlessness Overcome Through Surrogacy in 1988, which gives help and advice to surrogates and childless couples in the UK.  Sheila McClennon is joined by Kim Cotton and fertility law expert Natalie Gamble to look back to that time and discuss the legal changes that have happened since.

Wearing the Same Clothes

How much time do you spend deciding what to wear in the morning?  Some of the world's most successful people wear a signature "uniform" every day. Mark Zuckerberg is known for his grey t-shirt, black hoody and jeans and Steve Jobs his black polo neck. But it's more unusual for a woman to wear the same thing especially when women are often scrutinised for their appearance in a way that men aren't. Recently Karl Stefanovic, a television presenter from Australia, admitted to wearing the same suit every day for a year to make a point about the ways in which his female colleagues are judged – and claimed that during all that time nobody noticed. So is it time for women to do similar and wear the same outfit every day?  Sheila is joined by capsule wardrober Mary Anne Hobbs who presents the weekend breakfast show on 6Music and Maria Malone, lecturer in fashion at the Manchester Metropolitan University Department of Apparel.

EVA Women's Aid Opens Safe House for Over 45s

A new safe house for women who have been victims of domestic or sexual abuse and violence will be opening in the North East of England in January 2015.  It's aimed at women aged 45 and over and thought to be the first of its kind in UK.  The project is the initiative of EVA Women's Aid based in Redcar.  EVA already support two safe-houses for women fleeing domestic abuse - so why do they want to offer provision specifically aimed at older women? Richinda Taylor, CEO of EVA Women's Aid and Wendy, who was in an abusive relationship for 15 years, join Sheila to explain why they would like to see more women over 45 seeking help.

Emerging from Violence and Abuse Women's Aid Facebook Page

 

 

Credits

| Role | Contributor |
| --- | --- |
| Presenter | Sheila McClennon |
| Producer | Susannah Tresilian |
| Interviewed Guest | Jane Hawking |
| Interviewed Guest | Kim Cotton |
| Interviewed Guest | Richinda Taylor |
| Interviewed Guest | Mary Anne Hobbs |
| Interviewed Guest | Maria Malone |
| Interviewed Guest | Natalie Gamble |

Broadcast