Main content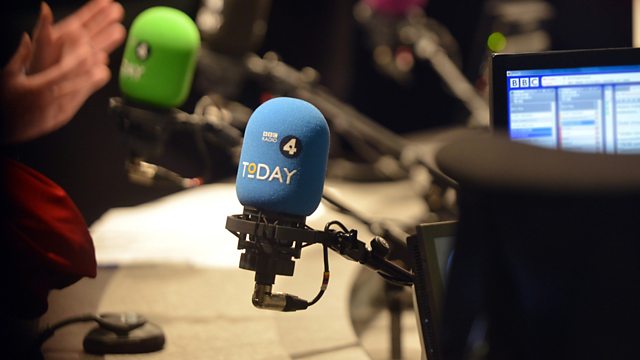 31/12/2014
Morning news and current affairs. Including Sports Desk, Weather and Thought for the Day.
Last on
Clips

Today's running order, guest edited by Lady Butler-Sloss
0650

Britain must stop "turning its back" and "pretending" modern slavery doesn't exist, Home Office minister Karen Bradley has warned, saying the UK's human trafficking problem should "shame us all". But is the government's own solution, the Modern Slavery Bill, making the situation worse for migrant domestic workers? Theresa May's Modern Slavery Bill, currently working through Parliament, proposes new powers to protect people who are trafficked into Britain. But the Conservative government is being criticised for 'licensing domestic slavery' with visa rules that tie domestic workers to their employees when they are brought into this country. Fiona Cunningham is former advisor to Theresa May, now associate director at the Centre for Social Justice. Kate Roberts is a community advocate for Kalayaan, a charity which supports migrant domestic workers in the UK.

0710

A nurse infected with Ebola was tested seven times at Heathrow before being cleared to fly home to Glasgow, it emerged yesterday, as Britain's first line of defence against the virus was branded "shambolic". Dr Martin Deahl, a consultant psychiatrist who travelled back on the same flight as the infected nurse Pauline Cafferkey said when it came to the screening there were too few staff on duty and the rooms where returning volunteers were held were too small. Dr Gary Weinstein is a doctor in Texas who treated the first three Ebola patients in the US in this outbreak. Dr Michael Von Bertele is a global humanitarian director for Save the Children international.

0715

Esther Rantzen is to be made a dame in the New Year's honours list. It's for her work in setting up both Childline and Silverline. We speak to her on Wednesday.

0720

Throughout the morning we'll hear from the tweeting shepherd, a sheep farmer in the Lake District who's embraced modern technology and shows off his working day on twitter.  

0725

Like many other people, clergy in the Church of England will be recovering from the strains of Christmas. It's a time when local vicars are busier than ever, which can bring much joy, or add to the stress that comes with their calling. They often find themselves dealing with the strains that show in families at this time of year, or among people who find themselves alone. So where can they turn? Our religious affairs correspondent Caroline Wyatt has been finding out where those in ministry go to be ministered to, for example if they are stressed or even on the verge of a nervous breakdown. 

0730

Back in September on this programme we spoke to the mother of a girl who, from the age of 13, was being sexually exploited by a group of men in West Yorkshire. Sarah, as she called herself, described how the family's pleas for help had been repeatedly ignored by the police.

After that interview was broadcast, a senior police officer contacted Sarah. The force acknowledged that the family had been badly let down, and a fresh investigation is now underway. This year we also heard about the appalling scale of grooming in the town of Rotherham. So how many more cases are there like it across the country? Where investigations have yet to be carried out. It's an issue our guest editor Dame Elizabeth Butler-Sloss wanted to know more about. She of course was the first chair of the government's inquiry into historical child abuse before she had to stand down earlier this year. Our reporter Tom Bateman's been back to meet Sarah.

0750

This morning we've been getting in touch with rural life in the Lake District courtesy of the Herdy Shepherd who updates his twitter followers with pictures of his herd and sheepdogs as he goes about his daily life. 

If you follow @herdyshepherd1 on twitter you can see pictures of the sheepdogs Floss and Tan at work.

0755

The melancholy search for bodies from the AirAsia crash is continuing in the Java Sea, but heavy rains and high waves have been hampering efforts to examine the area where the plane appears to have gone down, with 162 people on board. Our correspondent Rupert Wingfield- Hayes is at the airport in Surabaya, Indonesia, where the plane took off for its two-hour flight to Singapore.

0810

Further updates on the nurse Pauline Cafferkey, who is battling Ebola at a London hospital and who could be offered plasma from patients who have survived the virus (see 0710). 

Dr Gordon Gancz is a GP and senior lecturer at the University of Oxford who is currently in Port Loko in Sierra Leone. He went there in the same wave as Pauline Cafferkey at the end of November. Professor Dame Sally Davies is Chief Medical Officer for England.

 0820

To what extent can (and should) women use their voice to gain greater authority in the workplace?  Margaret Thatcher famously got voice coaching at the National Theatre to lower her pitch.  Our guest editor Lady Butler-Sloss tells us that she was advised to speak slower and lower to be taken more seriously in the male-dominated world of the judiciary.  We speak to voice coach Elspeth Morrison and Lady Butler-Sloss.

0825

Updates from the tweeting shepherd James Rebanks.

0830

Russian opposition leader Alexei Navalny was arrested yesterday and returned to his house arrest at a protest in Moscow, hours after being given a suspended sentence for fraud. His brother Oleg had been given a three-and-a-half-year prison term for the same offence. Navalny had tweeted a picture of himself on the way to the Manezh Square rally and was later pictured there. Activists say another 100 demonstrators were also arrested. Kira Yarmysh is spokesperson for Alexei Navalny. Ben Judah is a Russia analyst and author of 'Fragile Empire', a book about Putin's Russia.

0840

There's growing pressure on the Queen to pay a visit to one of her most patriotic territories.   Over seven thousand citizens of Gibraltar have signed a petition calling on her majesty to come to the territory, after an absence of over sixty years.  The sovereignty of Gibraltar continues to be disputed by Spain, with tensions mounting last year after a series of incursions into Gibraltarian waters. Adding to this tension is the prospect of Britain leaving the EU after the next election. It's an "existential issue" for Gibraltar, according to the chief minister Fabian Picardo. Our guest editor Elizabeth Butler-Sloss spoke to him when she went to Gibraltar for this programme.

0845

Throughout the morning we've been hearing from James Rebanks, the tweeting shepherd. You can follow him on twitter @herdyshepherd1, and he has a book coming out in the New Year called the Shepherd's Life. 

In our final update from the farm, he reflects on the land he farms on and its history in our society.

0850

Guest editor Elizabeth Butler-Sloss's will speak to us on Wednesday in her first interview since standing down as head of the inquiry into allegations of historic child abuse.  


All subject to change.
Broadcast