Main content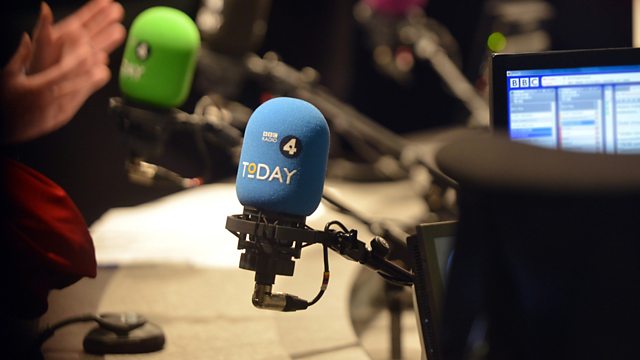 30/12/2014
Morning news and current affairs. Including Sports Desk, Weather and Thought for the Day.
Last on
Today's running order
0645

Jazz, once the epitome of cool, has now almost entirely disappeared from youth culture.  Our guest editor Lenny Henry put us in touch with a group of teenagers hoping to change that and bring Jazz back into the mainstream. Our reporter Nesta McGregor went to east London to meet 'Future Band'.

0650

Saturday's Air Asia flight 8501 from Surabaya to Singapore is still missing. Indonesian authorities say they've received offer of help from quite a few countries including the US and China. It's been noted that there were heavy storms at the time the plane lost contact. Just how bad can these be? Captain Ian Hollingworth is a pilot trainer and spokesperson of the British Airline Pilots Association.

0710

A healthcare worker who has just returned from West Africa has been diagnosed with Ebola and is being treated in hospital in Glasgow. The woman, who arrived from Sierra Leone on Sunday night, is in isolation at Glasgow's Gartnavel Hospital. All possible contacts with the case are being investigated, including on flights to Scotland via Heathrow. She is to be flown to the Royal Free Hospital in North London for treatment. Professor Tom Solomon is director of the Institute of Infection and Global Health at Liverpool University.

0715

The Greek stock market has fallen on the news that there's to be a snap general election in January. For a third time, MPs failed to agree on a new President. The leader of the popular left-wing Syriza party has promised that Greece will abandon austerity if his party wins the election. Syriza opposes the austerity and stands a good chance of winning the election. Already the German finance minister Wolfgang Schauble has said there will be problems if Greece takes another path. Vicky Pryce is chief economic advisor at the Centre for Economics and Business Research and author of 'Greekonomics'.

0720

This morning our guest editor, Lenny Henry is bringing us stories of black Britons who have broken through racial barriers to become pioneers in their field of work. Diane Abbott is one of the first four black MPs to be elected to the Commons in 1987.

0725

Files released today at the National Archives show how in the mid-1980s Mrs Thatcher supported education reforms that closely resembled Michael Gove's policies more than twenty years later. She wanted to take schools out of local authority control, create new independent state schools and give parents more choice. Mark Dunton is contemporary records specialist at the National Archives.

0730

2014 has been the year UKIP made its long-awaited Westminster breakthrough. It has gained two seats in two months and has big plans for the coming general election. Our guest editor Lenny Henry is fascinated by the ethnic minority voters who are attracted to UKIP despite, or perhaps because of, its stance on immigration.  He has spoken to UKIP's communities spokesman, the MEP Amjad Bashir, whose father came here as a migrant worker from Pakistan in the 1950s. 

0740

Our guest editor today is the comedian, Lenny Henry. One of the questions he's been asking is where is the black literary canon? He's concerned that a lot black literature is limited by the prism of experiences based on race. Black authors will only be taken seriously if they write about colonialism, or civil war, or poverty. There doesn't appear to be room for black writer of science fiction, crime, chic lit even. Ellah Allfrey is former Granta editor. Dreda Say Mitchell is crime writer and recipient of the CWA's John Creasey dagger in 2005 for 'Running Hot'. Courttia Newland is a novelist and playwright. 

0750

How will Greece's international lenders deal with a new government that could be in place in Athens within a month, one that is bitterly opposed to the austerity demanded in return for two substantial bailouts. The German finance minister Wolfgang Shauble has already warned Greece not to take what he called 'another path', and that the election will not change the agreements made with the present Greek government. Gunther Krichbaum is chair of the Bundestag's EU Committee.  Costas Isychos is head of Syriza's foreign policy and defence sector.

0810

Pharmacists have strongly criticised plans to strengthen checks at the counter for entitlement to free prescriptions in England. They say a database to verify if patients are eligible will damage trust, creating a culture of fear and uncertainty. The government says the system will tackle fraud, saving £150ma year, to be spent on front-line services. Neal Patel is a pharmacist and spokesperson for the Royal Pharmaceutical Society.

0820

This morning our guest editor, Lenny Henry is bringing us stories of black Britons who have broken through racial barriers to become pioneers in their field of work. Sajid Javid is the Secretary of State for Culture, Media and Sport and Minister for Equalities.

0830

The first case of Ebola diagnosed in the UK will be a test for the systems and procedures put in place here to deal with cases of the virus -- the nurse who developed symptoms hours after returning to Glasgow from West Africa will be treated at London's Royal Free Hospital. Professor Paul Cosford is medical director and director for health protection for Public Health England.

0835

Our guest editor Lenny Henry is a big fan of comics, going so far as to include The Dark Knight Returns comic as one of his items when he appeared on Desert Island Discs. The faces of characters in the comic book world have been changing in the past few years with more diverse heroes appearing including Miles Morales, a black Spiderman. But what of the world behind the scenes, how many of the writers and illustrators are from diverse backgrounds? Bobby Joseph is a British-based creator of both Skank and Black Eye, Viz style magazines featuring some of the first comics by black creators featuring black characters. 

0845

Right-to-die campaigner Debbie Purdy, who won a landmark ruling to clarify the law on assisted suicide, has died. She was suffering from MS and had been refusing food. Davina Hehir was a friend of Debbie Purdy and is also senior policy advisor at the campaign for Dignity in Dying.

0850

Lenny Henry has asked that this morning's edition of the Today Programme be presented entirely by black and ethnic minority staff and all of his items have exclusively featured black and minority ethnic contributors.  He believes there is not enough ethnic diversity on television and the media, and that positive discrimination is needed to redress this balance.  For the BBC and others, he has proposed to the Culture Select Committee a plan to ring-fence money specifically for black and ethnic minority productions, along the lines of the model used by the BBC to increase regional diversity. Lenny Henry joins us live.


All subject to change.
Broadcast