Main content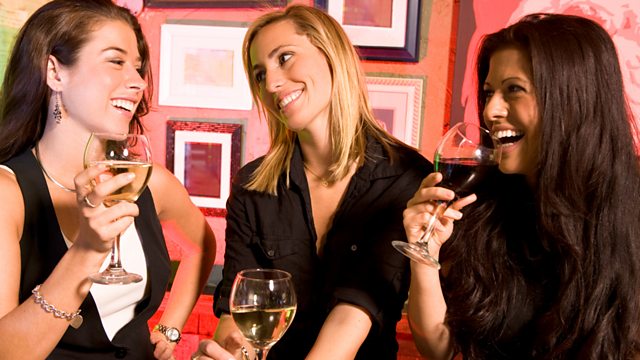 Party Small Talk, Women and Slapstick, 2015 Fashion, Winning a Lotto Syndicate
How do you survive party chit-chat? We look at the fashion trends for 2015 (spoliers - get ready for pleather and gingham) and women in slapstick.
It's coming up to New Year's Eve. There will be parties and parties mean small talk. For some, this will be joy everlasting; for others, it is the social equivalent of scraping nails down a long blackboard. So is small talk an art we Brits are especially gifted at? We give you a survival guide to party chit-chat.
Why does slipping on a banana skin make people laugh? Comedian Lucy Porter and Dr Louise Peacock talk about the stars of slapstick from Lucille Ball to Miranda and how the relationship between women and slapstick is far from simple. Thya ask; who will be the new women stars of slapstick?
Plus, we all dream of winning the lottery and spend hours spending the fictional money. The National Lottery is 20 years old and there have been more than 3,700 Lotto-made millionaires since it began on 19th November 1994. We talk to two ladies who won £1.4million each as part of a syndicate in Driffield, Yorkshire. Sue Brusby and Sue Harris join Jane to discuss what life has been like since they joined the Rich List.
Chapters
Party Small Talk

Duration: 09:58

Lottery Winners

Duration: 09:19

2015 Fashion Trends

Duration: 13:05

Women and Slapstick

Duration: 09:31

Small Talk at Parties

It's coming up to New Year's Eve.  The peculiar mixture of glee and dread kicked in some weeks ago.  There will be parties.  And parties mean small talk.  For some, this will be joy everlasting; for others, it is the social equivalent of scraping nails down a long blackboard.  So is small talk an art we Brits are especially gifted at?  Or does our light mix of weather, traffic and children's nativity plays make us the laughing stock of Europe?  Liz Brewer, Author of the Ultimate Guide To Party Planning & Etiquette and Dr Paul Taylor, Senior Lecturer in Communications Theory, join Jane to pass some time, and if needs be… chat about the weather.

Women and Slapstick

Slapstick across stage and screen has never gone out of fashion.  But the relationship between women and slapstick has been far from simple. In early 20th Century stars like Mabel Norman and Gloria Swanson had audiences in stitches; Lucille Ball got herself into all kinds of scrapes; French and Saunders were forever falling over each other.  Now Miranda Hart – slapstick star of modern lore – has had her last dance on television screens.  So who will be the new women stars of slapstick?  And why does slipping on a banana skin make people laugh anyway?  Comedian Lucy Porter will be talking at the Bristol Slapstick Festival in January; Dr Louise Peacock is author of Slapstick and Comic Performance; and both join Jane to talk about why a custard pie in the face is just intrinsically funny.

Lottery Winners

"It Could Be You" – the National Lottery is 20 years old.  There have been more than 3,700 Lotto-made millionaires since it began on 19th November 1994.  And for eleven women, part of a syndicate at Tescos in Driffield, Yorkshire, it 'was' them. Nine years ago they shared a £18.2million win.  Sue Brusby and Sue Harris join Jane from BBC Humberside to discuss what life has been like since they joined the Rich List.

2015 Fashion Trends

Pleather, pleats, culottes…get ready for next year's fashion trends with us. The Daily Telegraph columnist Judith Woods and style writer Polly Vernon put their own spin on what the designers think we should be wearing in 2015.

Credits

| Role | Contributor |
| --- | --- |
| Presenter | Jane Garvey |
| Producer | Kirsty Starkey |
| Interviewed Guest | Liz Brewer |
| Interviewed Guest | Paul Young |
| Interviewed Guest | Sue Bruby |
| Interviewed Guest | Sue Harris |
| Interviewed Guest | Judith Woods |
| Interviewed Guest | Polly Vernon |
| Interviewed Guest | Lucy Porter |
| Interviewed Guest | Louise Peacock |