Main content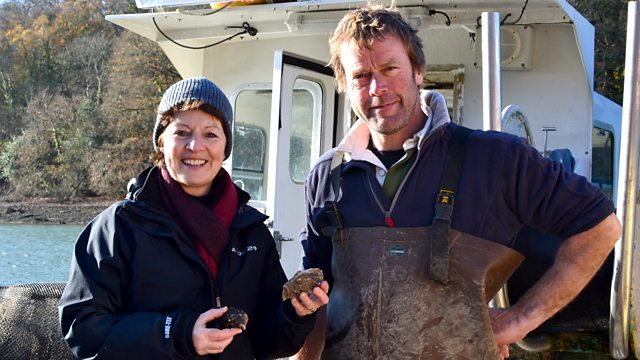 Dart Estuary
Helen Mark takes a boat down the Dart Estuary from Dittisham to Dartmouth to explore its industries, maritime history and marine habitats.
The Dart Estuary is one of South Devon's longest and most spectacular ria valleys. The surrounding area is a honeypot for visitors, and the boat trip along the estuary is one of the most popular attractions. Helen Mark visits during the calm tranquillity of winter, taking a boat from Dittisham to Dartmouth exploring the Dart's industries, habitats and naval history.
Helen meets skipper Dave Eggins at the village of Dittisham and they embark down the river soaking up some of the sights on the way. Their first stop is to meet oyster farmer Pat Tucker at a very important time of year as he harvests his oysters for the French market at Christmas. They join him on the first day of a low tide, as the oysters can only be harvested on 25 days of the year when the water is low enough to reveal them.
Next Helen and the skipper pop over the river to meet Nigel Mortimer, Estuaries Officer from the South Devon AONB. He sheds light on some of the characteristically important habitats of the estuary such as mudflats, saltmarsh and reed beds and they see if they can spot any of the regular visiting wildlife. Using nets they take a closer look into the mud to see the important worms, snails and bacteria which recycle the organic detritus from the river basin, and which many other species depend on.
Helen gets back on the boat to head to the port of Dartmouth where the estuary widens into a deep water harbour. No trip on the Dart would be complete without delving into its long and colourful naval history. She meets David Lingard Chairman of the Dartmouth Museum and retired Royal Navy Commander at the historic Bayard's Cove. He reveals how international trade has shaped the fortune of Dartmouth and other settlements along the Dart over the centuries.
Although this global maritime trade may be consigned to the past, the Dart is still used by the Royal Navy today. The Britannia Royal Naval College is an imposing building overlooking the lower estuary with a close connection to the Dart. We meet Lieutenant Commander Sue Bryson on a college jetty to hear about how the estuary provides an excellent environment in which the cadets gain essential seamanship, warfare and leadership training.
Presenter: Helen Mark
Producer: Sophie Anton.
Podcast
Countryside magazine featuring the people and wildlife that shape the landscape of Britain