Main content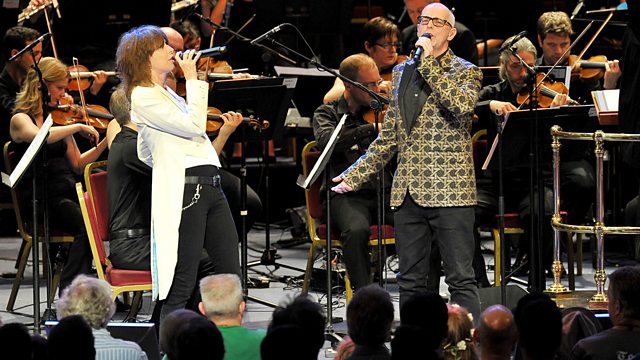 Prom 8: Pet Shop Boys
Another chance to hear a Prom featuring the Pet Shop Boys with Chrissie Hynde in arrangements of their own songs plus their work A Man from the Future, inspired by Alan Turing.
Better known as the electro-pop duo the Pet Shop Boys, Neil Tennant and Chris Lowe made their Proms debut this summer as composers. The world premiere of their large-scale work A Man from the Future, inspired by code-breaker Alan Turing, sits alongside new orchestral arrangements of favourite Pet Shop Boys songs with legendary vocalist Chrissie Hynde.
Recorded at the Royal Albert Hall, London.
Presented by Sara Mohr-Pietsch
Neil Tennant / Chris Lowe: Overture to 'Performance'
Neil Tennant / Chris Lowe: Pet Shop Boys songs
Neil Tennant / Chris Lowe: A Man from the Future (orch. S. Helbig) (world premiere)
Juliet Stevenson (narrator)
Chrissie Hynde (vocalist)
Pet Shop Boys
BBC Singers
BBC Concert Orchestra
Dominic Wheeler (conductor)
The legendary Pet Shop Boys made their Proms debut in this Late Night Prom, joining the BBC Singers and BBC Concert Orchestra for the world premiere of A Man from the Future, a new piece for electronics, orchestra, choir and narrator.
The piece is inspired by the life and work of Alan Turing, who helped break the German Enigma code during the Second World War and formulated the concept of the digital computer, but was prosecuted in 1952 for his homosexuality, receiving a posthumous pardon last year. It comes as a timely homage, 60 years after Turing's death.
The concert also includes new orchestral arrangements by renowned film composer Angelo Badalamenti of five Pet Shop Boys songs chosen by Tennant and Lowe, in which they are joined by Chrissie Hynde, as well as the exuberant overture to their 1991 tour, Performance, heard live in concert for the first time.
Concert originally broadcast 23/07/2014.