Main content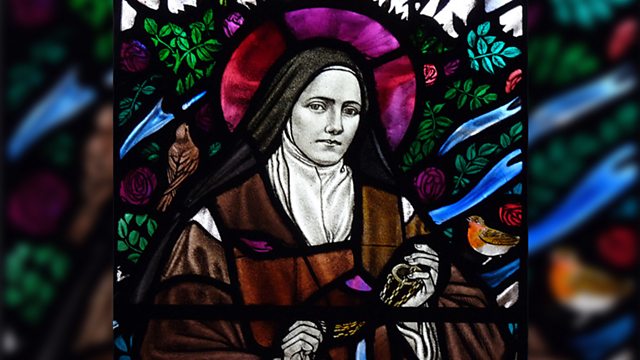 Margaret Rope's Stained Glass; Betsy Tobin
The stained glass art of Margaret Rope, support for young people experiencing abuse in relationships, Betsy Tobin on her new novel, and civil partnerships for heterosexual couples.
Listener, Mark Stewart on why he wants to raise the profile of stained glass artist Margaret Rope. Civil Partnerships for heterosexual couples. What support is there for young people experiencing domestic violence in relationships? Betsy Tobin on her novel Things We Couldn't Explain - and the history of virgin births. Leather, or the artificial alternative pleather, is in fashion. Dai Rees from the London College of Fashion gives his views on how to wear it and how to look after it.
Presented by Jane Garvey
Produced by Jane Thurlow.
Chapters
Heterosexual Couples and Civil Partnerships

Duration: 09:18

Young People and Domestic Abuse

Duration: 10:43

Things We Couldn't Explain

Duration: 07:02

Margaret Rope's Stained Glass

Duration: 08:40

Leather and Pleather Fashion

Duration: 05:43

Young People and Domestic Abuse

According to the most recent statistics available 16 to 24 year old women were more likely to be victims of any domestic abuse than any other age. Cath Hanrahan is a Children and Young Person's Domestic Violence Advisor from Twelve Company, a domestic abuse charity for all vulnerable women and men in the Cornwall area. Trained by the national charity, Co-ordinated Action Against Domestic Abuse, Cath talks to Jane about the attitudes and behaviours she has to challenge and support, and why CAADA recently made the decision to start to work with girls as young as 13.

 

Heterosexual Couples and Civil Partnerships

Back in May of this year Jane Garvey spoke to Rebecca Steinfeld and Charlie Keidan. They are a heterosexual couple who want a civil partnership rather than a marriage. Since civil partnerships were put in place for same sex couples in December 2005 there has been a growing call for the same to be available for heterosexual couples. It is said it is the first time in British history that same-sex couples have had a legal advantage over opposite-sex couples. Tomorrow morning/Today Rebecca and Charlie take their case to the high court. They join Jane to explain why having a civil partnership is so important to them that they are now making a legal challenge to the government to get formal recognition of their relationship in the way they want it.

Things We Couldn't Explain

Betsy Tobin's fifth book,  Things We Couldn't Explain,  is a comic novel about a young blind girl, AnneMarie living in a small town in the Midwest,  who discovers she has become pregnant despite never having had sex.  Soon after the Virgin Mary starts to appear in the sky and AnneMarie's home town becomes over-run with tourists, zealots, reporters and touts. Betsy joins Jane to talk about faith in America, miracles, Marian apparitions and the history of virgin births.

Stained Glass

Listener Mark Stewart had long been admiring the beautiful stained glass windows in Shrewsbury Cathedral. He wrote to us after discovering that the artist, 

Margaret Rope

, had been virtually ignored in her home county, without a mention in the new Shrewsbury Museum and little more country wide.  Margaret Rope was born in 1882 and at just 28 years old was commissioned to produce several large windows for the Cathedral there. Over her thirty year career she went on to create stained glass works displayed in churches across the UK as well as in Italy, Canada, South Africa and Australia.  So why do her achievements appear to be ignored?  We invited Mark to London to meet our reporter Tamsin Smith in a quest to find out more about the elusive 

Margaret Rope.

Leather and Pleather Fashion

Leather, or the artificial alternative pleather, is in fashion – for everyone. And a biker jacket isn't your only option. Whether it's vamping up a little black dress, covering up in leggings or updating your wardrobe: skirts, dresses and shirts- you name it there will be a leather version. But how do you wear it? Dai Rees from the London College of Fashion shares his expertise with Jane.

Credits

| Role | Contributor |
| --- | --- |
| Presenter | Jane Garvey |
| Producer | Jane Thurlow |
| Interviewed Guest | Cath Hanrahan |
| Interviewed Guest | Rebecca Steinfeld |
| Interviewed Guest | Charles Keidan |
| Interviewed Guest | Betsy Tobin |
| Interviewed Guest | Mark Stewart |
| Interviewed Guest | Dai Rees |