Main content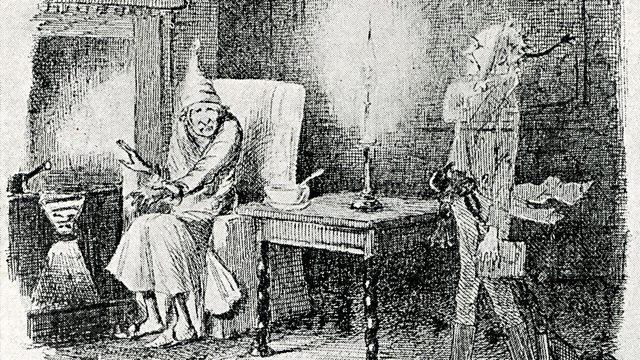 Penny Gore introduces Neil Brand's new adaptation of Dickens's A Christmas Carol. Plus music by Bob Chilcott, Lennox Berkeley, Britten, Part and Strauss.
Afternoon on 3 continues its BBC Performing Groups Best of 2014 with a chance to hear the BBC Singers and Symphony Orchestra in Neil Brand's new adaptation of Dickens' A Christmas Carol. In this dark and atmospheric version of the story, follow Ebenezer Scrooge as his past, present and future conspire to teach him the real spirit of Christmas, and his own humanity, to an exciting orchestral underscore. Plus more from the BBC Singers' 90th birthday concert, the BBC Scottish Symphony Orchestra performing Part, and the Ulster Orchestra in Strauss as part of Radio 3's Strauss 150 celebrations.
Presented by Penny Gore.
c.2pm
Neil Brand A Christmas Carol
Ebenezer Scrooge (Robert Powell)
Ghost of Christmas Past/Laundress/ Maid/Woman (Sophie Thompson)
Ghost of Christmas Present/Jacob Marley (Ron Cook)
Dora/Mrs Fezziwig/Betty (Tracy-Ann Oberman)
Alfred/Phil 1/Fezziwig/Fat man 1/Man (Patrick Brennan)
Benjamin/Fred/Phil 2/Fat man 2/Undertaker (Shaun Mason)
Charles - (young)/Cratchit/Joe (Paul Heath)
Emily/Belle/Mrs Cratchit/ Charwoman (Hannah Genesius)
Fanny/Fan/Tiny Tim/Boy (Bettrys Jones)
BBC Singers
BBC Symphony Orchestra
Martin Andre (conductor)
David Hunter and Neil Brand (directors)
Ann McKay and David Hunter (producers)
c.3.15pm
Bob Chilcott Weather Report
Lennox Berkeley There was neither grass nor corn
Britten Shepherd's Carol
Helen Neeve (sop), Margaret Cameron (mezzo-soprano),
Stephen Jeffes (tenor), Andrew Rupp (bass)
BBC Singers
Bob Chilcott ( conductor)
c.3.30pm
Part Cantus in Memoriam Benjamin Britten
BBC Scottish Symphony Orchestra
Donald Runnicles (conductor)
c.3.40pm
Strauss Le Bourgeois Gentilhomme Op.60
Ulster Orchestra
Michael Seal (conductor).
Credits
| Role | Contributor |
| --- | --- |
| Performer | BBC Singers |
| Performer | BBC Scottish Symphony Orchestra |
| Performer | BBC Symphony Orchestra |