Main content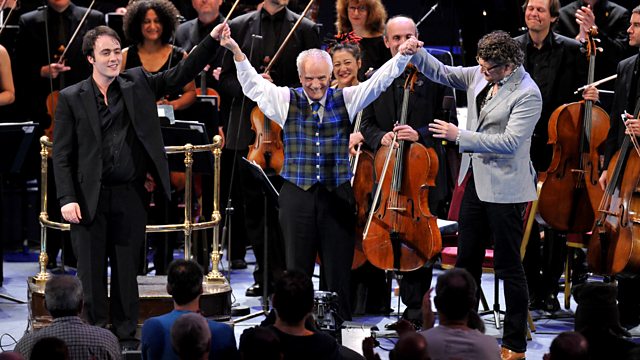 Prom 70: Peter Maxwell Davies Birthday Concert
The Scottish Chamber Orchestra under Ben Gernon. Peter Maxwell Davies: Ebb of Winter; Strathclyde Concerto No 4 (Dimitri Ashkenazy: clarinet); An Orkney Wedding, with Sunrise.
To celebrate his 80th birthday, the Scottish Chamber Orchestra play music by Sir Peter Maxwell Davies.
Recorded during this year's BBC Proms at the Royal Albert Hall, London.
Presented by Andrew McGregor
Sir Peter Maxwell Davies: Concert Overture 'Ebb of Winter' (London premiere)
Sir Peter Maxwell Davies: Strathclyde Concerto No. 4
Dimitri Ashkenazy (clarinet)
Scottish Chamber Orchestra
Ben Gernon (conductor)
On Sir Peter Maxwell Davies's 80th birthday the Proms pays tribute to this leading figure in contemporary British music with a programme of works selected by the composer.
The concert overture Ebb of Winter, commissioned by the Scottish Chamber Orchestra as part of its 40th-anniversary celebrations, captures the rugged, rough-hewn beauty of Davies's Orkney home. The fourth Strathclyde Concerto, for clarinet and orchestra, completes the concert - a thrilling tour de force, demanding equal virtuosity from soloist and ensemble.
Concert originally broadcast 08/09/2014.