Main content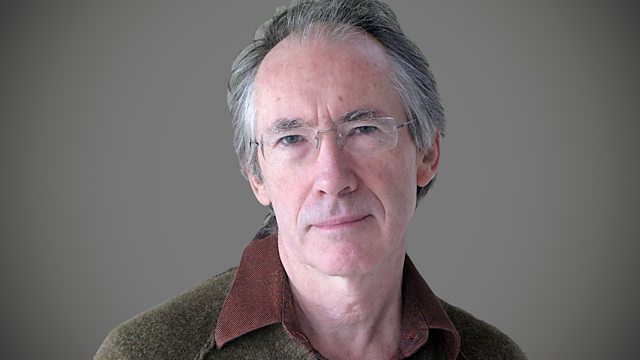 Ian McEwan Special
Ian McMillan presents an extended interview with Ian McEwan. The novelist reveals his writing process, from a novel's first line, to the language of intimacy.
Ian McMillan presents an extended interview with Ian McEwan for The Verb, in which he shares his writing process, from the skill of crafting an opening paragraph that will allow the story to emerge , to the language he uses to represent intimacy and the body. He also explores the status of poetry and song in novels like 'Saturday' and 'The Children Act'.
Ian McEwan
The Verb presents an extended interview with one of our best-loved novelists, Ian McEwan. Across 45 minutes, Ian McMillan explores his writing process, from how he 'tunes' the opening passage of a book, to the role of the body as 'truth-teller' in his work, and his experience of writing 'absence' and 'intimacy'. We also find out about the role that poetry and song have played in McEwan's own life (he shares his love of Yeats and the poetry of George Crabbe) as well as their importance in the lives of his characters. McEwan shows his fascination with different language worlds; his latest novel, 'The Children Act', gave him the opportunity to analyse the language of the family courts.  Finally, Ian McMillan invites him to consider the role of novel-writing in our lives; can knowing what the novelist knows ever protect us?
Ian McEwan won the Somerset Maugham Award in 1976 for his first collection of short stories First Love, Last Rites; the Whitbread Novel Award (1987) and the Prix Fémina Etranger (1993) for The Child in Time; and Germany's Shakespeare Prize in 1999. He has been shortlisted for the Man Booker Prize for Fiction numerous times, winning the award for Amsterdam in 1998. His novel Atonement received the WH Smith Literary Award (2002), National Book Critics' Circle Fiction Award (2003), Los Angeles Times Prize for Fiction (2003), and the Santiago Prize for the European Novel (2004). He was awarded a CBE in 2000. In 2006, he won the James Tait Black Memorial Prize for his novel Saturday, and his novel On Chesil Beach was named Galaxy Book of the Year at the 2008 British Book Awards. 'The Children Act' is published by Vintage.