Main content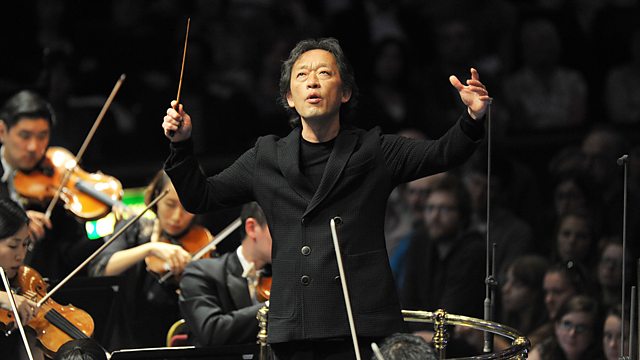 Prom 55: Tchaikovsky, Debussy and Unsuk Chin
A Prom in which Myung-Whun Chung conducts the Seoul Philharmonic. Debussy: La mer. Unsuk Chin: Su (Wu Wei: sheng). Tchaikovsky: Symphony No 6 in B minor(Pathetique).
The Seoul Philharmonic Orchestra and Myung-Whun Chung at this year's BBC Proms in music by Unsuk Chin alongside two Western symphonic pieces by Debussy and Tchaikovsky
Presented by Penny Gore at the Royal Albert Hall, London
Debussy: La mer
Unsuk Chin: Šu
Tchaikovsky: Symphony No. 6 in B minor, 'Pathétique'
Wu Wei (sheng)
Seoul Philharmonic Orchestra
Myung-Whun Chung (conductor)
Myung-Whun Chung made his first Proms appearance this summer as Music Director of the Seoul Philharmonic Orchestra, which made its own Proms debut as one of a series of global orchestras.
They brought with them the sounds of South Korea in a concerto for sheng (traditional reed mouth organ) and orchestra written by their compatriot Unsuk Chin - a sonic game between soloist and orchestra.
Chin's evocative textures are framed by the sensuous richness of Debussy's La mer, capturing the sea in all its moods, and Tchaikovsky's final symphony, with its elusive but turbulent narrative.
Concert originally broadcast 27/08/2014.