Main content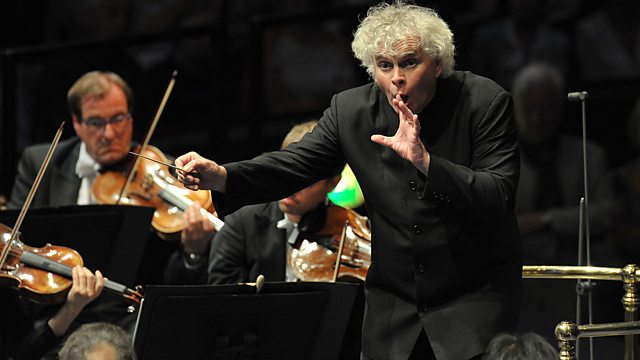 Prom 64: Simon Rattle and the Berlin Philharmonic
A Prom featuring the Berlin Philharmonic conducted by Simon Rattle. They perform Rachmaninov's Symphonic Dances and Stravinsky's The Firebird.
The Berlin Philharmonic and Sir Simon Rattle dance through a programme of Russian music from this year's BBC Proms - Stravinsky's Firebird ballet and Rachmaninov's Symphonic Dances.
Recorded at the Royal Albert Hall, London.
Presented by Petroc Trelawny
Rachmaninov: Symphonic Dances
Stravinsky: The Firebird
Berlin Philharmonic
Sir Simon Rattle (conductor)
Sir Simon Rattle and his Berlin Philharmonic don their dancing shoes and whisk us off to Russia - via America in the case of Rachmaninov's Symphonic Dances. Composed on Long Island for the Philadelphia Orchestra, they blend the balletic traditions of the exile Rachmaninov's Russian homeland with jazz influences from his adopted home, the United States. Then there's authentic Russian ballet and fairy tale in Stravinsky's breakthrough work about the magical Firebird.
Concert originally broadcast 05/09/2014.