Main content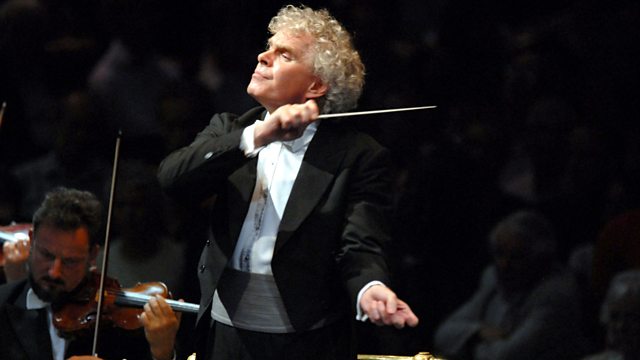 With the Berlin Philharmonic under Simon Rattle performing Schumann's Symphony No 1 and Brahms's Symphony No 1. Plus Les Talens Lyriques in Rameau: Zais (Prologue and Act 1).
As a prelude to Radio 3's 'Celebrating Simon Rattle' festivities next year, Afternoon on 3 this week offers a chance to hear the conductor's recent cycle of the complete Schumann and Brahms symphonies. Sir Simon Rattle conducts here music which has formed the backbone of this legendary orchestra's repertoire for over a century, not least under Rattle's predecessors, Wilhelm Furtwangler and Herbert von Karajan.
Also this week, a rare chance to hear Jean Philippe Rameau's Zais recorded in the historic Hospices de Beaune at the heart of Burgundy, a day's walk from the composer's birthplace in Dijon.
Zais is best known for its overture, a powerful orchestral portrayal of Chaos and the creation of the universe. Written in 1748 it is an adaptation of Richardson's novel Pamela re-imagined in a mythological world of enchanted spirits and fantastical creatures.
Presented by Jonathan Swain
Schumann Symphony No. 1 in B flat, op. 38 ('Spring')
Brahms Symphony No. 1 in C minor, op. 68
Berlin Philharmonic Orchestra
Sir Simon Rattle (conductor)
[Schumann and Brahms cycle continues tomorrow afternoon]
3.15pm
Jean-Philippe Rameau (1683-1764) - Zaïs, ballet héroïque in one prologue and four acts
Prologue and Act I
Zaïs..... Julian Pregardien (tenor)
Zélide..... Marie Arnet (soprano)
Oramasès..... Konstantin Wolff (baritone)
Cindor..... Benoît Arnould (bass)
Grande Prêtresse de l'Amour..... Amel Brahim Djelloul (soprano)
L'Amour..... Hasnaa Bennani (soprano)
Un Sylphe..... Zachary Wilder (countertenor)
Namur Chamber Chorus
Les Talens Lyriques
Christophe Rousset (conductor)
[Recorded at the Cour des Hospices during the 2014 Beaune Festival]
continued at c. 3.20pm tomorrow.
More episodes
Previous
You are at the first episode