Main content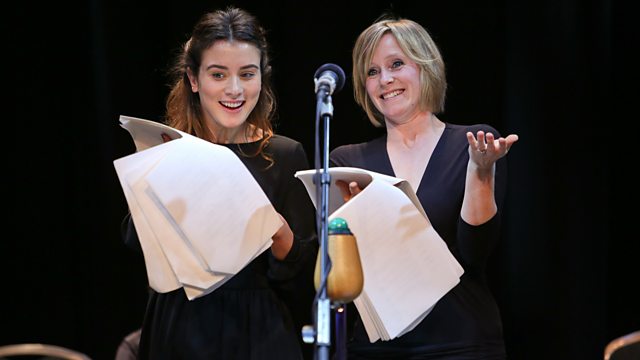 Paines Plough at 40
To mark the 40th anniversary of the Paines Plough theatre company, a special event held at the BBC Radio Theatre with new plays by Nick Payne, Robin French and Katie Douglas.
An evening of new drama to celebrate the 40th anniversary of Paines Plough. James Grieve and George Perrin, joint Artistic Directors of Paines Plough, introduce three short plays by Nick Payne, Robin French and Katie Douglas, recorded in front of an audience at the BBC Radio Theatre.
Paines Plough was formed in 1974 over a pint of Paines bitter in the Plough pub. Since then they have produced more than 130 new productions by world renowned playwrights and have toured those plays to hundreds of places from Manchester to Moscow to Maidenhead.
All three plays are performed by the same core ensemble: Susan Brown, Karl Johnson, Clare Corbett, Bryan Dick, with additional support from Roslyn Hill and Monty d'Inverno.
The first play, Nick Payne's Happiness, focuses on married couple Karen and Richard as they attempt to remedy their respective unhappiness with a variety of far-flung undertakings. But can they find a solution that is closer to home?
In the strange universe of Robin French's Silver Drills, the fortunes of Humboldt Zoo are about to be turned around by the arrival of mysterious and endangered animals - the Silver Drills.
In the final play, Katie Douglas's Reunion, Gary has invited his family around for lunch. However, the reunion turns out to be a far cry from what he was expecting.
Credits
| Role | Contributor |
| --- | --- |
| Writer | Nick Payne |
| Writer | Robin French |
| Writer | Katie Douglas |
| Marla/Ursula/Rita | Susan Brown |
| Voice/Professor/Lou | Karl Johnson |
| Karen/Louise/Rose | Clare Corbett |
| Richard/George/Gary | Bryan Dick |
| Graham/Nathan | Monty d'Inverno |
| Melisa | Roslyn Hill |
| Director | James Grieve |
| Director | George Perrin |
| Director | Sasha Yevtushenko |
| Producer | Sasha Yevtushenko |
Binaural sound: doing the best for Beckett