Main content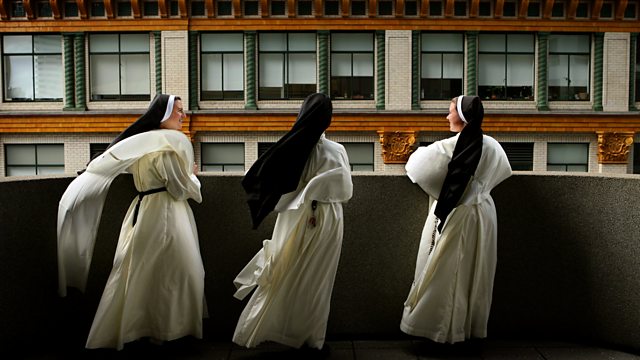 Domestic Abuse, American Nuns, Special Guardianship
Presented by Sheila McClennon. Including changes to the law on domestic abuse, a new report into special guardianship and the latest on a Vatican investigation into US nuns.
A new law has been announced to protect victims of psychological domestic abuse, but will it actually work? Research into special guardianship has raised concerns about support for family members who take on responsibility for relatives' children. Is the Vatican softening its stance on the activities of American nuns, previously criticised as being too secular and feminist. And a special report from West Africa on the impact of Ebola on pregnant women.
Vatican and US Women's Religious Orders
A Vatican Report on Roman Catholic sisters in the United States which began five years ago was published this week. The investigation, known as an apostolic visitation, was initiated in 2008 under Pope Benedict XVI with only a vague explanation. The Vatican said it was the largest apostolic visitation ever undertaken in a single country and its purpose was to examine the quality of life of religious women in the United States.
Domestic Abuse
The Home Secretary has announced a new law to protect victims of domestic abuse – It will outlaw coercive and controlling behaviour. This has been the result of a long campaign by organisations including Women's Aid and Paladin, but will the new law actually work?  
Ebola and Pregnancy
The Ebola Outbreak in West Africa continues to ruin lives across the region. More than 2000 people have died in Sierra Leone since the recent outbreak began, where a number of NHS workers have gone to help tackle the epidemic. The virus has particularly devastating effects on pregnant women, as Dr John Wright, one of 30 volunteers who flew to the region last month, has been finding out. 
Special Guardianship
Since its introduction 9 years ago, more and more Special Guardianship Orders are being made – this half way house between fostering and adoption allows children to maintain a relationship with their birth parents whilst giving the child a stable family environment and allowing them to leave care. A new report by the University of York and the british association of Adoption and Fostering has looked into Special Guardianship to find out if it's really achieved what it set out. 
Disability and The Arts
DaDaFest in Liverpool is one of the largest disability arts festivals in the world and is currently on in Liverpool. But how are women with disabilities perceived? The Festival has been running from November until 11 January. Sheila McClennon talks to Ruth Gould, director of DaDaFest and Julie McNamara, playwright and actress who has been starring in one of the productions of the festival, "The Ugly Girl".


Credits
| Role | Contributor |
| --- | --- |
| Presenter | Sheila McClennon |
| Producer | Adrian Bradley |