Main content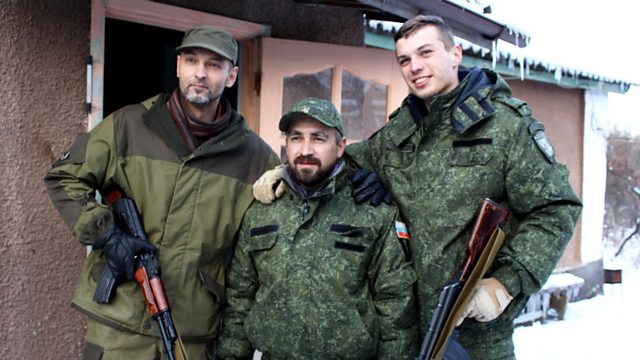 The Knights of New Russia
Tim Whewell gains rare access to the shadowy world of Russia's radical nationalists fighting in eastern Ukraine for Novorossiya, or New Russia, and a dream of empires past.
Russian support for the separatists in eastern Ukraine doesn't all come directly from the Kremlin. The rebellion there may be stoked, and armed, by Vladimir Putin - but it's also become a personal cause for young Russian volunteers recruited by a variety of nationalist and far-right groups. Many say they're motivated by their Orthodox faith - and their dream to restore Novorossiya, or New Russia, the territory which encompassed eastern Ukraine under the Tsarist Empire. Passionate members of re-enactment societies, they've spent their weekends reliving Russia's historic battles. But now they're fighting - and sometimes dying - for real, in what they see as a test of their own, and Russia's, "manhood". Tim Whewell has gained rare access to the weird, shadowy world of Russia's radical nationalists. He travels with volunteers from the grand old imperial capital, St Petersburg, to the chaotic, muddy battlefields of eastern Ukraine - and reveals a movement whose leaders have become increasingly influential in Putin's Russia - but is now in danger of becoming an embarrassment to the Kremlin.
Producer: Dina Newman.