Main content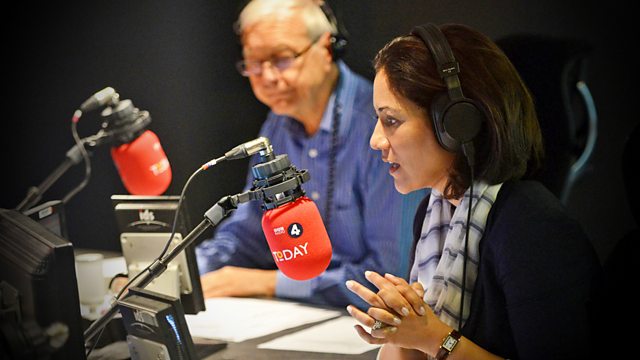 17/12/2014
Morning news and current affairs. Including Sports Desk, Yesterday in Parliament, Weather and Thought for the Day.
Today's running order
0650

It's a year today since the biggest corruption scandal in Turkey's recent history, claims of embezzlement that hit the government of Recep Tayyip Erdogan. He says it was orchestrated by his political rival, raiding media last weekend linked to him and arresting journalists, which prompted fury from the EU. While Mr Erdogan remains in power twelve months on from the scandal, accusations that Turkey's democracy has been eroded are growing. Mark Lowen is our Istanbul correspondent.

0710

More than 140 people have been killed, at least 132 of them children, at an army school in the Pakistani city of Peshawar after the Taliban assaulted it. They said it was in retaliation to the army's operations in Waziristan. The attack raises issues about the vulnerability of schools in particular, and the ability of Pakistan to maintain the security of its people. Rahimullah Yusufzai is one of Peshawar and Pakistan's best known journalists. He's also been involved in negotiations between the government and the Taliban.

0715

Greece could soon be heading for another general election in which the radical opposition party Syriza could come to power. The Greek parliament will hold a first round of voting on Wednesday, in the country's presidential election. If parliament fails to approve the government's candidate after three rounds of voting, a general election will automatically be held. And Syriza, which wants part of Greece's international debt written off, is leading in the opinion polls. Europe correspondent Chris Morris reports.

0720

If you have been burgled then you probably know it is important not to leave your valuables in obvious places. But it is surprising how few of us follow police advice. Now researchers at the University of Portsmouth have studied how the professional burglar approaches a job, which can help us understand what not to do with our valuables. Dr Claire Nee, a reader in Forensic Psychology at the University of Portsmouth, worked on the study.

0730

A Review by the Cochrane Collaboration has found that electronic cigarettes can help smokers kick their tobacco habit. It's quite a moment for e-cigarettes and their supporters, because Cochrane reviews are seen by doctors and other medical practitioners around the world as more or less the gold standard in healthcare research. On the downside, the review draws on only two randomised trials, and so its findings come with caveats about the sample size. Jamie Hartmann-Boyce is one of the authors of this Cochrane Review.

0740

Ron Mael of Sparks was, to many children in the 70s, as terrifying as anything on Dr Who. He wrote some of the strangest songs to ever make it on to Top of the Pops.  Forty years on he's returned to Britain to give his pop music an orchestral makeover at London's Barbican.  David Sillito has been to meet him.

0750

How is the Russian media covering the fall of the Rouble to a record low against the dollar? After the Russian central bank raised interest rates overnight from 10.5% to 17% in an emergency move to support the currency, Russia's main state-owned channels appear to be playing down the possible impact on the country's economic growth, with at least one channel pinning the blame on "speculators". Some more liberal TV stations, however, suggest a recession is now on the cards. The main newspapers carry equally pessimistic predictions. Dmitry Babich is a journalist at the Sputnik and Edward Lucas is a senior editor at The Economist.

0810

Further analysis of the Taliban attack in Peshawar in which over 140 people were killed (see 0710). Mishal Husain reports from Peshawar. 

0820

Further analysis of the way Russia's media is covering the fall of the rouble. John Simpson is the BBC's World Affairs Editor.

0825 

NASA's Curiosity rover has detected methane on Mars. The robot has found very low-level amounts constantly in the background, but it has also monitored a number of short-lived spikes that are 10 times higher. The discovery of methane on the Red Planet is important because here on Earth, 95% of the gas comes from microbial organisms, giving researchers hope that there might really be life on Mars. Curiosity scientist professor Sushil Atreya reports from San Francisco.

0830

The Al-Sweady Public Inquiry will publish its final report today. Its primary task was to consider accusations that British soldiers had unlawfully killed Iraqi prisoners following a fierce firefight in Iraq in 2004. Earlier this year, lawyers representing the families of the dead men accepted there was no concrete evidence to this main allegation. However, they were still holding to their other claims of mistreatment of other prisoners at the hands of the British soldiers. John Dickinson is a solicitor at Public Interest Lawyers, who are leading on the Al-Sweady Inquiry.

0845

Sotheby's are to hold their first auction dedicated to the art of table-setting in Paris on Wednesday. Seven personalities from the world of gastronomy and art have each set their own table, each with a different theme, including the seaside, design, humour and champagne. Jo Bryant is editor of the Debrett's handbook and William Hanson is an etiquette consultant. 

0850

Further analysis of the Taliban attack in Peshawar in which over 140 people were killed (see 0710 and 0810). Mishal Husain reports from Peshawar and is joined by Dr Ayesha Siddiqui, a Charles Wallace Fellow at St Antony's College, Oxford University, and Christina Lamb, a Sunday Times Foreign correspondent who's reported from Pakistan for over 20 years. 


All subject to change.