Main content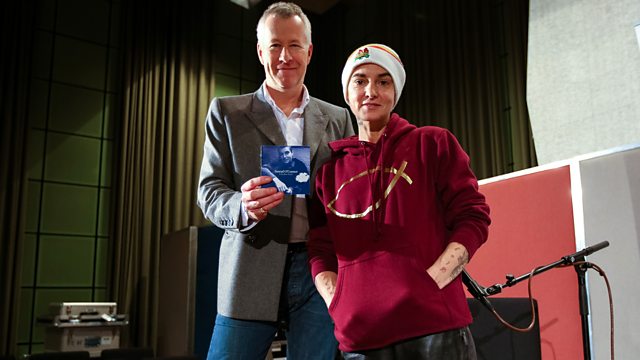 Sinead O'Connor (the A-Side)
Sinead O'Connor talks to John Wilson about her most personal album, Theology, and plays an exclusive acoustic set.
John Wilson continues with the latest series of Mastertapes, in which he talks to leading performers and songwriters about the album that made them or changed them. Recorded in front of a live audience at the BBC's iconic Maida Vale Studios. Each edition includes two episodes, with John initially quizzing the artist about the album in question, and then, in the B-side, the audience puts the questions. Both editions feature exclusive live performances.
Programme 10: A-side 'Theology' by Sinéad O'Connor
Sinéad O'Connor became a household name after her 1990 hit 'Nothing Compares 2U', penned by Prince. Since then she has released 9 solo albums including this year's 'I'm Not Bossy, I'm the Boss'. No stranger to controversy and with an ambivalent relationship towards the Roman Catholicism of her upbringing, Sinéad is an artist who has always followed her own vision. She found notoriety when she tore up a picture of the Pope live on American television and later or was ordained as a priest.
Her interest in all faiths finds expression in her eighth record Theology, her most personal body of work to date and the one album she says she wants to take with her to the grave.
Sinéad had been studying Judaic Theology in Dublin before she wrote the album, drawing mainly on psalms and scriptures of the prophets for inspiration. It also includes a tense, intimate version of "I Don't Know How To Love Him" from Jesus Christ Superstar. As one critic wrote, Sinéad "re-invigorates the ancient genre of the hymn in her own inimitable way".
In the A-side of Mastertapes Sinéad talks about 'Theology' and her inspiration for writing it and also plays key tracks from the 2007 album in an exclusive acoustic set.
Producer Neil McCarthy.