Main content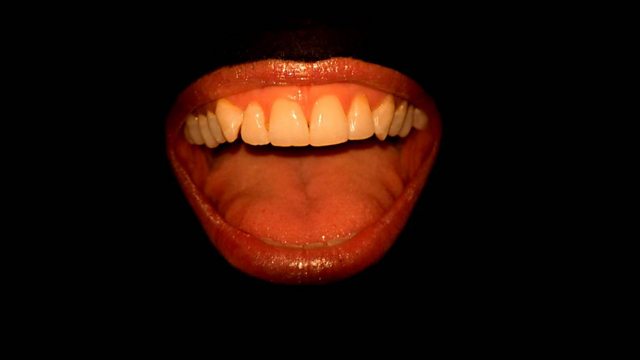 Beckett in Brooklyn
Irish actor Lisa Dwan takes a trilogy of Samuel Beckett's most challenging roles to the Brooklyn Academy of Music.
A disembodied mouth hovers 8 feet above the stage and appears to oscillate wildly around the pitch-black auditorium.
Blindfolded, her head strapped into a harness, Irish actor Lisa Dwan delivers the frenetic, roller-coaster stream of consciousness that is Samuel Beckett's 'Not I'. Alongside 'Footfalls' and 'Rockaby', the play forms one part of a trilogy of intensely demanding one-woman Beckett works which Lisa has been performing to packed houses across the UK & Ireland.
Now, as Lisa takes her Beckett trilogy across the Atlantic to the Brooklyn Academy of Music's Harvey Theatre, we find her immersed in a whirlwind of rave reviews, TV appearances and a US theatre-going public heavily preoccupied with Ebola, Isis and the uncertainty of our times.
As the curtain prepares to fall for the last time, we discover the true extent of Lisa's commitment to these dark and challenging roles, what the impact of performing them has been on her and if, 25 years after the Irish playwright's death, she may have shown us that Samuel Beckett's work matters more than ever.
Producer: Conor Garrett.
Piers Plowright's Pick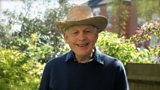 Legendary radio maker Piers Plowright recommends Beckett in Brooklyn:

"Irish actor and Samuel Beckett interpreter Lisa Dwan performs three of his short plays in New York. We follow her through performance, meetings with critics and public, memories of her childhood, and how she became fascinated by Beckett and his work, particularly that written for women.
"This documentary takes us into the head of Lisa Dwan: we hear everything from her point of view – in a sense she is the programme. It's 'shot' like a film with the producer's voice doing the camera instructions as Lisa encounters New York, Samuel Beckett's texts, and her memories of growing up in Ireland. The effect is wonderfully intimate and revealing – not a cliché in sight/sound – and the interaction of Lisa's thoughts and the bustle of the theatre and the city is beautifully handled. The programme does what radio does best: takes you inside the subject."
Featured in...
A selection of great documentaries chosen by legendary radio producer Piers Plowright.