Main content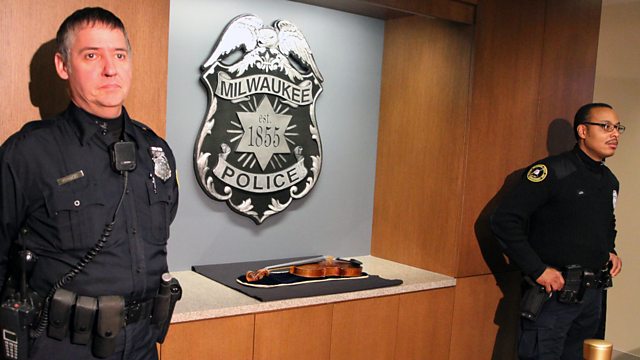 The Lipinski
4 Extra Debut. Peter Curran traces the 300-year journey of a Stradivarius violin - through the lives of geniuses, dictators and thieves. From 2014.
The startling 300-year journey of a 'golden period' Stradivarius violin - through the lives of geniuses, dictators, refugees, ordinary people and the thieves who stole it violently in 2014.
An art crime story is the beginning of a journey around the world - and through varied lives and cultures - tracing the history of the Lipinski Stradivarius violin which left the hands of the master Antonio Stradivari in 1715.
In February 2014, Milwaukee Symphony leader Frank Almond was beaten and tasered after a sell-out performance - and the $6 million violin was snatched from his hands. National US media overload followed, as the instrument had become the blue-collar city's emblem of accessible high culture. The programme explores its impact not on the musical elite, but on the life of the city and its regular people.
And from the crime scene, we get into the rich international cast and stories.
Memories are shared by Evi Liivak, an Estonian violinist whose father was murdered by the Gestapo and who played in Second World War refugee camps before marrying one of the main translators at the Nuremberg War Crime Trials and coming to America.
Plus Peter Voight the Sussex luthier whose family have been making and repairing violins across Europe since the 17th century, the lawyer of Universal Allah, the Milwaukee barber imprisoned for the 2014 theft, and the local Police Chief who led the investigation.
Producer: Peter Curran
A Foghorn Company production first broadcast on BBC Radio 4 in December 2014.
Last on
Broadcasts