Main content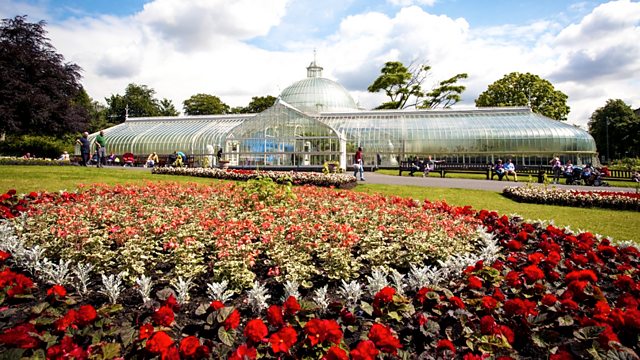 Glasgow
Eric Robson chairs the horticultural panel programme from Glasgow. Bob Flowerdew, Bunny Guinness and Matthew Wilson join him to answer audience questions.
CLARIFICATION: In this programme, the team mentions the red Brussels sprout variety Rubine which they say is "taking the supermarkets by storm" but, when cooked, tends to lose its colour. However, although Rubine does tend to lose its colour when cooked, the variety Redarling, which is also widely available, does retain its colour after cooking.
Eric Robson chairs the horticultural panel programme from Glasgow. Bob Flowerdew, Bunny Guinness and Matthew Wilson join him to answer audience questions.
Produced by Howard Shannon
Assistant Producer: Hannah Newton
A Somethin' Else production for BBC Radio 4
This week's questions and answers:
Q. I want to prune back my six-foot (1.8 meters) Arbutus Menziesii (Madrone) to form a small multi-stem tree to show off its red bark. Could the panel advise when would be the best time to do this and how?
A. This is a beautiful tree with red bark and distinctive ericaceous bell shaped flowers. In the wild it naturally sheds its lower branches. It's sometimes known as a 'Strawberry Tree'. It does take pruning well when it's a young plant. Prune it over the course of a few years. Work your way up from the bottom.
Q. Many years ago I planted some seed that turned into a beautiful Thistle like plants with silvery leaves. I'd like to grow them again, could you tell me what I might have been growing?
A. It sounds like Eryngium Giganteum or an Onopordum.
Q. I'll be taking some cuttings from a Holly bush for Christmas, can I propagate from these?
A. No, you need to take cuttings in the spring; seeds from the berries are a better bet. Put the berries in a bucket, give it a good slosh about and the seeds will sink while the pulp rises to the top. Take the seeds and sow them in trays with vermiculite over the top and put them outside.
Q. What would the panel suggest I start growing in my greenhouse over the winter?
A. Put Garlic sets in pots and grow winter salad plants such as Pac Choi, Mustards, Spring Onions, Radishes and leaf salads such as Claytonia that you can sow thickly and cut them when they are a couple of inches (five centimetres) tall. You could also use the greenhouse to over winter tender plants such as Pelargoniums or tomatoes.
Q. We are always being offered car tyres to grow edibles in, should we be worried about the chemicals leaching into the plants?
A. Bob says that he's been doing it for years and he's fine but you should cut out the middle of the tyre (so that it makes a cylinder shape) and line with polythene to prevent any possible leaching. Alternatively try growing in builder's bags.
Q. All our allotment neighbours grow amazing Brassicas but all of ours develop club root and die. Any suggestions?
A. Liming could rid the soil of Club root. Try planting them out in clean compost in containers or raised beds and lime well. Try disease resistant varieties such as the 'Kilaton' Cabbage.
Q. My Clematis Montana has run riot up a slender tree and I'm afraid it might cause some damage. Should I trim the ends, or try something more drastic?
A. You could cut it off at the ground. These are so resilient they will recover.
Q. On our allotments, there is great debate about whether to winter dig or spring dig. What do the panel reckon?
A. The panel say don't dig unless it's clay that has been trampled. If you want to put organic matter into the soil, lay it on the top and let the worms bring it down. Digging can harm the worms and micro-organisms in the soil.
Q. Can the panel recommend some colourful, low maintenance plants to be planted in railway stations?
A. Bob recommends a bed full of Mints, a bed full of Thymes, Rosemary, Lavender and Sages. Label them all and invite people to touch and smell the herbs. Bunny recommends putting edibles in there like the Ida Red Apples or fruit vines. Matt suggests Lambs Ear, Pennisetum 'Tall Tales' or Hair Grass for tactile planting. He also recommends lots of blubs as they're cheap and don't require looking after. Narcissus, Tulips and Alliums would all work.
The filmy fern house in the Glasgow Botanic Gardens