Main content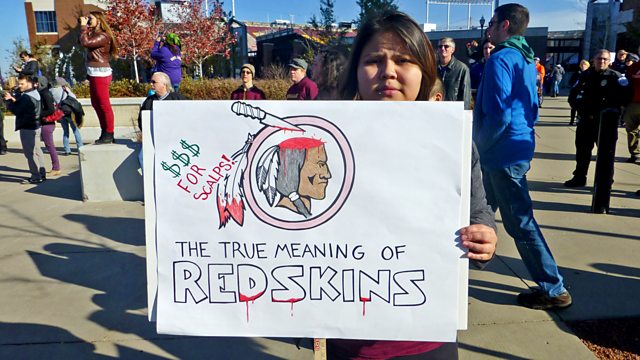 Washington Redskins
Mike Wendling explores the controversy surrounding the Washington Redskins. It is one of the most popular American football teams, but many Native Americans say the name is racist.
Fans of the Washington Redskins, one of the most popular American football teams in the country, are fiercely proud of their dark crimson Indian head logo. They say it is a sign of respect and that the name 'Redskins' goes back 80 years. But to many Native Americans, the indigenous people who lived in the United States before the arrival of European settlers, the word Redskins is hateful. For them it's a painful reminder of how their people have been oppressed and neglected even to this very day.
Mike Wendling travels from North Dakota, to Minneapolis to Washington DC to explore the controversy which, thanks to social media and a growing number of Native American campaigners, has now become a burning national issue.
On the Turtle Mountain reservation, Mike meets Jordan Brien, a young hip-hop artist with a troubled past who is determined to get the name of the team changed. He says his people shouldn't be reduced to mascots, and he urges young Native Americans to take a stand against racism. His cause has got the support of some in the US Congress and even President Obama has said that if the name is offensive to a sizeable group of people, the owners should "think about changing it". But for diehard fans like Chap Petersen, who has been going to Redskins games for four decades, such a change is unthinkable. And the club's owner Daniel Snyder has vowed never to discard the name whatever the press, pollsters and politicians say.