Main content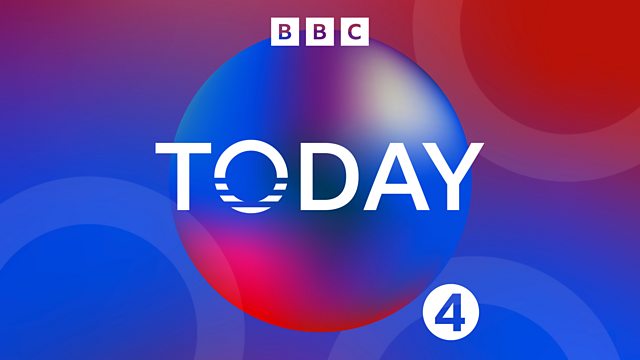 11/12/2014
Morning news and current affairs. Including Sports Desk, Yesterday in Parliament, Weather and Thought for the Day.
Last on
A look at what makes a good city in terms of building, planning and creativity.
Clips

Today's running order
0650

The BFI are having a vote-off for the nation's favourite sci-fi character starting today. The polls will close on Monday with the results announced on Friday. The top two are the character of Ripley from the ALIEN series of films and Dr Who. The BFI would like Today Programme listeners to tweet their favourite sci-fi characters. Laura  Adams is curator for the Sci Fi season at the BFI.

0710

The Scout Association has apologised to people who were abused when they were scouts. It follows BBC reports yesterday that since the Jimmy Savile scandal emerged two years ago, more than 50 people have hired lawyers to sue the Scouts. And they've paid out half a million pounds in compensation. David McClenaghan is a child abuse lawyer.

0715

A BBC investigation has found that more than 5,000 people around the world died as the result of jihadist violence during the month of November. An analysis of deaths caused by Al Qaeda, its offshoots and groups which subscribe to a similar ideology found there had been fatalities in 14 countries - with the greatest number in Iraq, Nigeria, Afghanistan and Syria. Peter Neumann is director of the International Centre for the Study of Radicalisation at Kings College London.

0720

The Home Secretary, Theresa May, is planning to overhaul the way allegations of police misconduct and corruption are dealt with in England and Wales. Mrs May is consulting on proposals to give police and crime commissioners powers to deal with complaints, rather than allowing police forces to investigate their own officers.  Danny Shaw is our home affairs correspondent.

0730

Oil continued its slide downwards on Wednesday, with West Texas Intermediate crude, the US benchmark, closing down $2.88 on the day at $60.94 a barrel. The price of oil has now dropped more than 40% from a peak of $107 in June. Brent crude meanwhile sunk to $65.24 a barrel, its lowest since September 2009.  The catalyst for the latest sell-off was an OPEC report that projected demand for its crude would sink next year to levels not seen in more than a decade. Earlier in the week Morgan Stanley forecast oil could fall to $43 a barrel next year unless OPEC curtailed supply. But at the end of last month the group decided not to cut output, mainly because of Saudi pressure. It's caused international anger; the Iranian President Hassan Rouhani described it as a political conspiracy against the Middle East and the Islamic world. Linda Yueh is our chief business correspondent in Hong Kong. Nick Butler is visiting professor at Kings College London and former group vice president for strategy development at BP.

0740

If you type the letters ASMR into the search box on YouTube you'll get more than 1.5 million results.  There are now scores, possibly hundreds, of people making amateur videos designed to trigger in viewers a particular pleasurable sensation which has been dubbed Autonomous Sensory Meridian Response.  One of the videos has been watched more than 7 million times. But only a minority of people claim to experience ASMR.  Nick Higham is one of them.

0750

Ed Miliband will give a speech in London today setting out Labour's plans to reduce the deficit. He will say there will be no uncosted spending commitments in Labour's next manifesto, and unveil a plan for year-on-year spending cuts in unprotected departments in the next parliament, until the budget reaches a current surplus. That element of the plan was set out in letters sent by Ed Balls to the rest of the shadow cabinet last night. We speak to Ed Balls on Thursday.

0810

A leading economist has warned that drug-resistant infections will kill an extra 10 million people a year, worldwide, and cost up to £63tn by 2050, unless action is taken. Jim O'Neill, who was appointed by David Cameron to lead a review of anti-microbial resistance, says international efforts are needed to avert an economic and health crisis. His team will now explore how to get global agreements to limit the use of antibiotics and to encourage greater investment in drug development. Jim O'Neill is chair of the Review on Anti-Microbial resistance. David Heyman is head of The Chatham House Center on Global Health Security.

0820

On Thursday Christie's auction house in New York will offer an American cultural icon, 'The Ricketts' Apple-1 Personal Computer up for sale.  This 1970's computer is estimated to fetch between $400,000 - 600,000. Jason Fitzpatrick is director at the Centre for Computing History in Cambridge.

0830

There's been a dramatic slump in oil prices over the last few weeks. So what effect will it have on the UK? It may be good news if you're buying petrol or anything that relies on oil, but what about the North Sea producers? Sir Ian Wood recently headed a government review into North Sea oil.

0835

Scientists have dealt a blow to the theory that water on Earth came from comets. Results from the European Space Agency's Rosetta mission, which made history by landing on a comet called 67P in November, show that the water found on the icy body looks unlike the water found on Earth. The results are published in the journal Science. Professor Alan Fitzsimmons is an astronomer at Queens University Belfast.

0837

The new computer science curriculum for primary aged children, which includes coding, was rolled out in September.  One term in and teachers are struggling. The main organisation helping teachers to deliver the changes, called Computing at Schools, has had only £3m and doesn't know if its funding will be renewed in April. Schools are being encouraged to reach out to the tech industry and be creative in the way that they deliver this new subject. But many are finding the changes tough. Catherine Carr reports.

0840

The Royal Society, which is made of up many of the world's most distinguished scientists, has published a short guide to climate science to help people challenge claims about global warming made by what they call the "ill-informed pub bore or the family know-it-all". Zoe Conway reports.

0850

Today Berlin mayor Klaus Wowereit will step down after more than 13 years in office. He was credited with giving the city a "poor, but sexy" brand internationally. Top architect David Chipperfield, who's worked both in both capitals, thinks London, unlike Berlin, "lacks a sense of culture" and has given up the idea of a "public realm", where arts and creativity can flourish. In an interview with the Guardian, Chipperfield says private investment's hold over new architecture in London is an 'absolutely terrible' means of building a city. So, what makes a good city in terms of building, planning and creativity? Is Berlin better then London? Wilfried Kuehn is a Berlin-based architect known for his innovative designs. Liza Fior is a London-based architect.


All subject to change.
Broadcast