Main content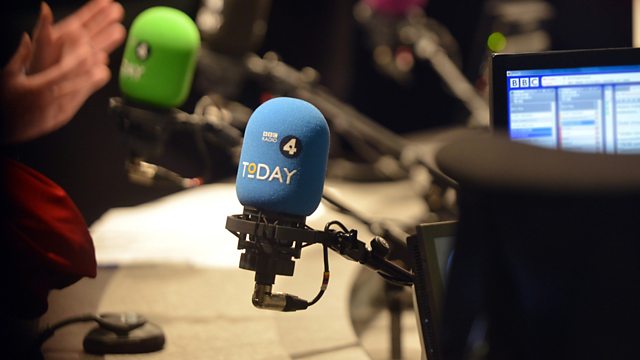 10/12/2014
Morning news and current affairs. Including Sports Desk, Yesterday in Parliament, Weather and Thought for the Day.
Last on
Today's running order
0655

Malala Yousafzai, the 17 year old shot by the Taliban in northern Pakistan after campaigning for girls' education, will be presented with the Nobel peace prize at a ceremony in Oslo today. She shares the prize with the Indian child rights activist Kailash Satyarthi. Our former Pakistan correspondent Orla Guerin is in Oslo.

0710

Almost a third of England's secondary schools are not good enough,  according to the Chief Inspector of Schools.  In his annual report, Sir Michael Wilshaw says while the number of primary schools providing a good education continues to rise,  improvement at secondary level is stalling and in some cases sliding backwards.  He says weak leadership and a culture which tolerates low level disruption are to blame. Head teachers unions say most teachers work hard to improve standards. Simon Barber is head teacher of Holy Trinity School in Barnsley. Phil Hearne is head teacher of The Hewett School in Norwich.

0720

The head of the World Health Organization has told the BBC that the Ebola virus is still "running ahead" of efforts to contain it. Dr Margaret Chan said the situation has improved in some parts of the worst affected countries, but she warned against complacency, saying the whole world remained at risk. She also said the WHO, and the international community, "failed" to react to the crisis quickly enough.  Margaret Chan is the WHO director general.

0730

The vast majority of police officers, we are told, are honest, decent cops.  Occasionally, however, there's a bad apple in the barrel.  And very occasionally, one of the bad apples is a dangerous criminal.  Four years ago, the Metropolitan Police found one such criminal in its midst, and it was up to the force's anti-corruption unit to root him out. Our home affairs correspondent, Danny Shaw, has been reporting on police corruption this week, and has been speaking to the detectives involved in that investigation to find out how they did it.

0745

Tim Burton's latest film, Big Eyes, tells the true story of an extraordinary art fraud. In the fifties and sixties the painter Walter Keane revolutionised popular art with his paintings of children with big eyes.  But Walter's works were actually the creation of his wife Margaret. When she eventually revealed the truth, a jury awarded Margaret $4m in damages. Walter died in 2000, penniless. Today, Margaret is 86 years-old and she still paints every day. Sarah Montague met Tim Burton to ask him why he decided to turn this story into a movie.

0750

The CIA has pushed back against some of the findings of yesterday's Senate report into its activities after 9/11, enhanced interrogation, methods that President Obama calls 'harsh', others call torture. The agency has apologised but said the techniques did produce intelligence that helped save lives. Our North America editor Jon Sopel, has been speaking to Dianne Feinstein, chair of the Senate Intelligence Committee.

0810

Further analysis of the recent Ofsted report that claims improvement at secondary level is stalling and in some cases sliding backwards. Sir Michael Wilshaw is Ofsted chief inspector.

0830

A third of contracts to provide NHS clinical services in England were awarded to private companies in the 18-months since April 2013, according to an investigation by the British Medical Journal. The figures follow the introduction of new laws which critics say increases competition in the NHS. The Government has described the figures as misleading, insisting private contracts represent a tiny proportion of NHS spending. Critics, however, say it is proof of creeping privatisation within the health service. Dr Jacky Davies is a consultant radiologist in London and co-founder of the campaign group Keep Our NHS Public. Rob Webster is chief executive of NHS Confederation.

0832

The report into the behaviour of the Financial Conduct Authority and a mishandled announcement that led to billions of pounds of value being wiped from insurance companies' share price will be published on Wednesday. The FCA was publically criticised by the Chancellor George Osborne over the briefing given to a journalist at the Daily Telegraph which led to the market reaction. The regulator has already announced it will cancel bonuses for several of its senior executives who are expected to be heavily criticised in Simon Davis's report. Kamal Ahmed is the BBC's business editor.

0835

The police in Ireland are mounting a major security operation today, as fifty thousand people are expected to descend upon Dublin to protest at the introduction of water charges. The level of anger displayed in previous protests has taken Ireland's coalition government by surprise; some ministers have even been trapped in their cars by demonstrators. But the tax for single parent households will be capped at less than £50. For families, that rises to £125. Andy Martin's report on why this comparatively small tax has sparked such dissent begins in Donegal, where a group of mothers are preparing to protest, for the first time since Ireland's austerity began.

0840

How can young people with learning difficulties be helped into work? Government figures suggest that only 7% of those with a learning disability are in paid employment. A few months ago, Lord Freud sparked a furious row when he appeared to say that some disabled people were not worth the minimum wage. Reporter Hannah Barnes has been to Bradford to see a project trying to tackle that sort of assumption.

0850

Further Ebola analysis. Brice De La Vigne is operations manager at Medecins San Frontiers.


All subject to change.
Broadcast