Main content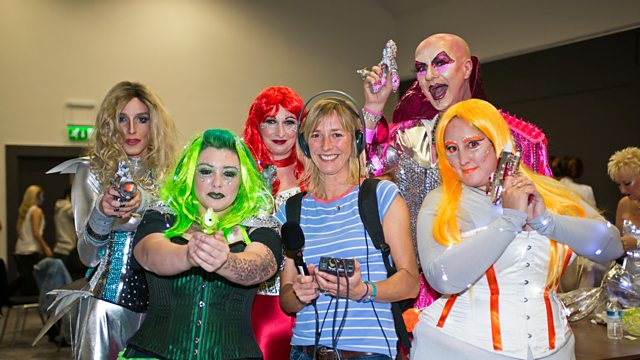 Jam, Jerusalem and an Awful Lot of Glitter
What do the Women's Institute and the gay club scene in 1980s New York have in common? Julie Gatenby meets people preparing for Liverpool's legendary Vogue Ball.
Jam, Jerusalem and an Awful Lot of Glitter
When Jeannie joined her local branch of the Women's Institute in Liverpool, she hoped for a bit of distraction from an ongoing, long term illness. But what she found there was a whole lot more than jam and Jerusalem. Before you could say Victoria sponge cake, she was sashaying down a catwalk dressed as a space alien, complete with ray gun, 8 inch heels and 3 inch red eyelashes, in front of a screaming audience.
Welcome to the Vogue Ball - Liverpool's 21st century version of a phenomenon that swept the streets, and then the underground clubs of New York back in the 1980's.
You might remember the Madonna song "Vogue" which spread the word - but this dance movement originated in the world of excluded black, gay street kids. Vogueing was an escape from a world which was set up to exclude them. It was all about fantasy, taking on a role for one night only of your dream persona; a Wall Street Banker; a glamorous diva; a film star, or even a creature from another galaxy.
In "Lives In A Landscape", Julie Gatenby follows two teams competing in the Vogue Ball - the House of Lisbon, represented by Stephen the bartender, and The House of Twisted Stiches - made up of the entrire committee of the the Iron Maidens WI, while compere of the ball, Rikki Beadle-Blair fills in the history.
Producer
Sara Jane Hall.
Stephen Lancaster-Frankland goes into cyborg mode for the Vogue Ball in Liverpool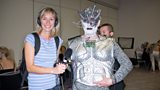 Photographer: Karyn Dickinson