Main content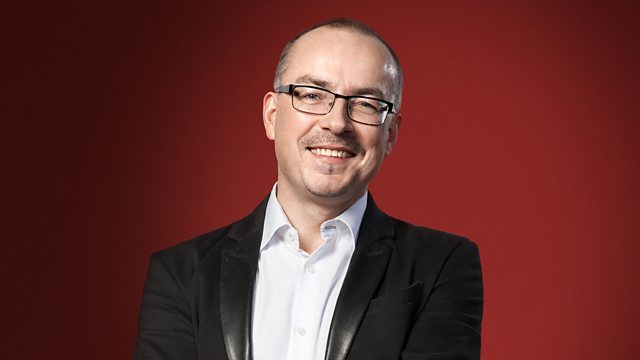 Building a Library: Bach: Orchestral Suites, BWV1066-1069
With Andrew McGregor. Including Building a Library: Bach: Four Orchestral Suites, BWV1066-1069; new recordings of music by Mendelssohn; Disc of the Week: Schubert: Winterreise.
09.00am
Brahms: Symphony No. 2
BRAHMS: Symphony No. 2 in D major Op. 73; Academic Festival Overture Op. 80; Tragic Overture Op. 81
Budapest Festival Orchestra, Ivan Fischer (conductor)
CHANNEL CCSSA33514 (Hybrid SACD)
Mozart: Piano Concertos Nos. 14 & 21
MOZART: Piano Concerto No. 14 in E flat major, K449; Piano Concerto No. 21 in C major, K467 'Elvira Madigan'; Ch'io mi scordi di te?... Non temer, amato bene, K505
Carolyn Sampson (soprano), Ronald Brautigam (fortepiano), Die Kolner Akadamie, Michael Alexander Willens (conductor)
BIS BIS2054 (Hybrid SACD)
Morton Feldman – Two Pianos and Other Pieces 1953-1969
FELDMAN: works including Two Pianos; Four Instruments; Piano Three Hands; False Relationships and the Extended Ending
John Tilbury and Philip Thomas (pianos)
ANOTHER TIMBRE at81x2
Tetzlaff Quartett play Mendelssohn & Berg
BERG: Lyric Suite - for string quartet (1926)
MENDELSSOHN: String Quartet No. 2 in A minor Op. 13
Tetzlaff Quartett
AVI MUSIC AVI8553266 (CD)
DONIZETTI: Lucia di Lammermoor
Diana Damrau (Lucia), Ludovic Tezier (Enrico Ashton), Joseph Calleja (Edgardo Di Ravenswood), David Lee (Lord Arturo Bucklaw), Nicolas Teste (Raimondo Bidebent), Marie Mclaughlin (Alisa), Andrew Lepri Meyer (Normanno), Munchener Opernchor, Orchestra, Jesus Lopez-Cobos (conductor)
ERATO 2564621901 (2CD mid-price)
09.30am Building a Library
Mark Lowther compares performances, spanning 80 years of recording history, of Bach's four Orchestral Suites (BWV 1066–1069) and makes a recommendation:
JS Bach: Overtures
BACH, J S: Orchestral Suites Nos. 1-4, BWV1066-1069
Freiburger Barockorchester
HARMONIA MUNDI HMC902113/14 (2CD mid-price)
10.20am New Releases: Mendelssohn
Stephen Johnson joins Andrew live in the studio to discuss and compare some new recordings of music by Mendelssohn including three "Scottish" Symphonies and two discs of piano repertoire.
Mendelssohn in Birmingham, Vol. 2
MENDELSSOHN: Symphony No. 1 in C minor Op. 11; Symphony No. 3 in A minor Op. 56 'Scottish'; Ruy Blas Overture Op. 95
City of Birmingham Symphony Orchestra, Edward Gardner (conductor)
CHANDOS CHSA5139 (Hybrid SACD)
Mendelssohn: Symphonies Nos. 1 & 3
MENDELSSOHN: Symphony No. 1 in C minor Op. 11; Symphony No. 3 in A minor Op. 56 'Scottish'
Netherlands Symphony Orchestra, Jan Willem de Vriend (conductor)
CHALLENGE CLASSICS CC72641 (Hybrid SACD)
Sir John Eliot Gardiner conducts Mendelssohn & Schumann
MENDELSSOHN: Symphony No. 3 in A minor Op. 56 'Scottish'; Hebrides Overture Op. 26
SCHUMANN: Piano Concerto in A minor Op. 54
Maria Joao Pires (piano), London Symphony Orchestra, Sir John Eliot Gardiner (conductor)
LSO LIVE LSO0765 (2SACD + Blu-ray Audio)
Mendelssohn: Songs without Words & 17 Variations Serieuses
MENDELSSOHN: Song without Words; Variations serieuses in D minor Op. 54
Rena Kyriakou (piano)
VOX CDX5077 (2CD budget)
Mendelssohn: The Complete Solo Piano Music, Vol. 2
MENDELSSOHN: Rondo capriccioso in E major Op. 14; Fantasia on "The Last Rose of Summer" Op. 15; 3 Fantasies (or Caprices) Op. 16; Fantasia in F sharp minor Op. 28; Songs without Words, Book 2 (6) Op. 30; Individual 'Lieder ohne Worte': E flat major, Espressivo & Allegro, MWV U 68; Individual 'Lieder ohne Worte': A major [Allegretto], MWV U 138; Songs without Words, Book 3 (6) Op. 38
Howard Shelley (piano)
HYPERION CDA68059 (CD)
11.20am New Releases: Requiae
MOZART: Requiem in D minor, K626
Sandrine Piau (soprano), Sara Mingardo (contralto), Werner Gura (tenor), Christopher Purves (bass-baritone), Accentus Chamber Choir, Insula Orchestra, Laurence Equilbey (conductor)
NAIVE V5370 (CD)
VERDI: Requiem
Krassimira Stoyanova (soprano), Marina Prudenskaja (mezzo-soprano), Saimir Pirgu (tenor), Orlin Anastassov (baritone), Chor, Symphonieorchester des Bayerischen Rundfunks, Mariss Jansons (conductor)
BR KLASSIK 900126 (2CD mid-price)
DVORAK: Requiem
Christiane Libor (soprano), Ewa Wolak (alto), Daniel Kirch (tenor), Janusz Monarcha (bass), Warsaw Philharmonic Choir, Warsaw Philharmonic Orchestra, Antoni Wit (conductor)
NAXOS 8.572874-75 (2CD Budget)
FAURE: Requiem, Op.48
GOUNOD: Ave Verum in E flat major; Les Sept Paroles du Christ sur la croix
Andrew Foster-Williams (bass-baritone), Flemish Radio Choir, Brussels Philharmonic Soloists, Herve Niquet (conductor)
EVIL PENGUIN EPRC015 (CD)
11.45am Disc of the Week
Schubert Lieder Volume 9: Winterreise
SCHUBERT: Winterreise D911
Matthias Goerne (baritone), Christoph Eschenbach (piano)
HARMONIA MUNDI HMC902107 (CD)