Main content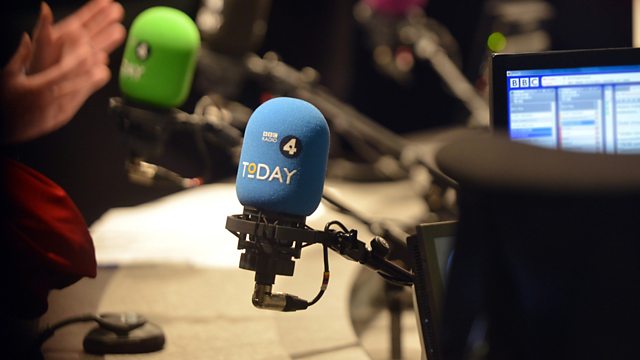 05/12/2014
Morning news and current affairs. Including Sports Desk, Yesterday in Parliament, Weather and Thought for the Day.
Last on
Today's running order
0650

Research published by Cancer Research UK finds that older patients are far less likely to have cancer surgery compared to younger people. Findings show that surgery is performed on 73% of all kidney cancer patients aged between 15 and 54, but halves to 36% of those aged between 75 and 84, and to just 11% over 85. Authors say the NHS needs to ensure that patients are assessed on their individual fitness to undergo treatments irrespective of age. Sarah Woolnough is from Cancer Research and Shafi Ahmed is council member of the Royal College of Surgeons.

0710

Premier Foods, one of the UK's biggest manufacturers, has been asking its suppliers for payments to continue doing business with the firm.  One supplier said the practice, known as "pay and stay", was like "blackmail". BBC Newsnight understands the struggling company has received millions of pounds from its suppliers in this way.  Premier Foods said it was confident the scheme did not break any rules under competition law. The government said it was "concerned by recent reports". Toby Perkins is the Shadow Minister for Business.

0715

Afghan President Ashraf Ghani is in London at the moment. He attended an international conference on Thursday where he secured continued support from the international community for Afghanistan's development.  US Secretary of State John Kerry renewed US commitments to invest in Afghanistan and create a "powerhouse" region, while the PM pledged to be with Afghanistan every step of the way. Michael Keating is former deputy special representative of the UN secretary-general in Afghanistan.

0720

Rail fares are going up again in a month. It happens every year and on Friday morning we will find out how big next year's rises will be. The rises will be less than usual because the government has capped increases on regulated fares, including season tickets, to the rate of inflation: 2.5%. Michael Roberts is director general of the Rail Delivery Group.

0730

How British is Britain? And is immigration, which has always been a part of life on these isles, making the country less British? Large numbers of people across the country believe the answer to that is 'yes', even if they are living in areas where there are relatively few foreign born residents. Our chief correspondent Matthew Price has been to one of those areas, Dudley, in the West Midlands, where the immigration debate is having a profound effect on both society and politics. Frank Field is a Labour MP and co-chairs the Commons group Balanced Migration.

0745

There is news on Friday morning of a dramatic breakthrough in human progress:  a new form of lift. It can go vertically as you would expect but also horizontally.   It is being claimed that the whole world of building design will be transformed by this invention.  Andreas Schrierenbeck is chief executive of ThyssenKrupp.

0750

Some of the Elgin Marbles are being allowed to leave Britain for the first time to go on loan to the Hermitage Museum in St Petersburg as part of their 250th anniversary celebrations. Neil MacGregor is director of the British Museum.

0810

The Afghan government is still at war and foreign aid is essential. The bill for security alone is bigger than the entire Afghan domestic government revenue.  The London conference on Afghanistan matters as the risks if the words spoken there turn out to be just words are huge.   However, one overarching problem is we have already spend billions and billions in Afghanistan and much has been wasted or stolen.  Lyse Doucet, Chief International Correspondent, has been speaking to Afghan President Ashraf Ghani.

0820

A new lower drink-drive limit comes into force in Scotland today.    The Scottish government says it'll make roads safer and save lives.   The change means Scotland now has a much tougher drink-driving threshold than England, Wales and Northern Ireland.   Joanna Bailey is from the road safety charity Brake and Kate Nicholls is chief executive of the Association of Licensed Multiple Retailers.

0825

What do dictators like to eat and what can their tastes tell you about them? Authors Victoria Clark and Melissa Scott have spent a lot of time researching this question - and the result is their book Dictators Dinners, published this week. They invited Sarah Montague and former British Ambassador to the United States Sir Christopher Meyer to lunch, to try the favourite dishes of some of history's most notorious tyrants.

0830

Conservative Voice, a campaign group on the centre-right of the Tory party, is today launching a campaign calling for the Government to lift the ban on the creation of new selective schools and to ensure that the Conservative Party's manifesto for the 2015 General Election contains a commitment to reversing existing legislation.  The campaign is supported by 60 Tory backbench MPs. Graham Brady is chair of the 1922 Committee of backbench Conservative MPs.

0840

In Sierra Leone, the 117 Ebola hotline is the first call for anyone with Ebola-related concerns.  The responders arrange for health officers, or ambulances to be sent out to the towns and villages across the country, and send teams to collect dead bodies.  They receive hundreds of calls every day.  The BBC's Africa correspondent Andrew Harding spent an afternoon at the 117 hotline centre in Freetown.

0850

Property investors who leave homes empty just to make money from property price rises could be fined or even jailed under proposals made by a London council. Islington plans to force owners of newly built homes to prove they are occupied. If homes are left empty for longer than three months owners will face high court injunctions which if breached, could bring fines, repossession and, in the worst cases, jail for owners, the council said. Is this a reasonable way to try and tackle the housing crisis? Councillor James Murray is executive member for housing and development at Islington Council. Robert Jones is director of Property Investments UK.


All subject to change.


Broadcast