Main content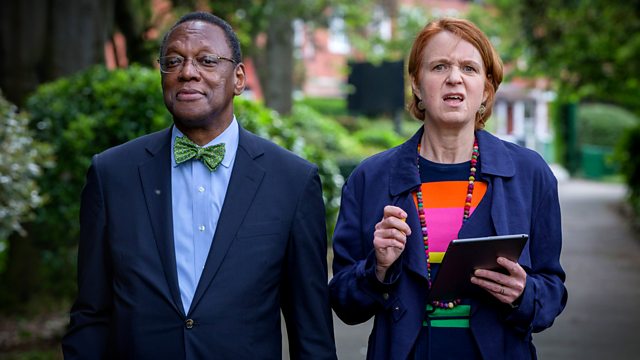 Comedy set around a dog training class. A trustee from the charity Naomi works for comes on a fact-finding visit, while Nana V is concerned about her dog No Name acting strangely.
It's a big day for Naomi. Jepherson Denomer, a trustee from the charity she works for, Future'Z, is coming on a fact-finding visit. He arrives in his vintage Daimler with his elderly dog Tuggy, and Naomi shows him what's been achieved in the local area. When Jep arrives to watch Eron's football demonstration, his car gets stuck in Nana V's muddy yard. Due at Future'Z's Scottish branch, Jep is forced to leave by train, leaving Naomi to care for Tuggy.
Nana V is concerned that something's wrong with her dog No Name. She takes her to the local vet Lilli Kusiak, who can't find anything amiss. Nana V becomes convinced that No Name's odd behaviour is because she herself has cancer, which the dog can smell.
But then Naomi calls to say Tuggy is unwell. She needs Nana V's help urgently. Lilli Kusiak is consulted once again - and this time it's serious.
Clips

Credits
| Role | Contributor |
| --- | --- |
| Nana V | Joanna Scanlan |
| Naomi | Vicki Pepperdine |
| Jepherson Denomer | Alvin Hall |
| Tony | Simon Fisher-Becker |
| Eron | Aron Julius |
| Jasmine | Selina Borji |
| Lilli Kusiak | Sunetra Sarker |
| Danielle Beggs | Polly Kemp |
| Tim Beggs | Justin Edwards |
| Vet Receptionist | Rachel McKeown |
| Garrett Hughes | Nick Roberts |
| Craig | Ian McGuinness |
| Director | Sue Tully |
| Producer | Jo Willett |
| Writer | Joanna Scanlan |
| Writer | Vicki Pepperdine |