Main content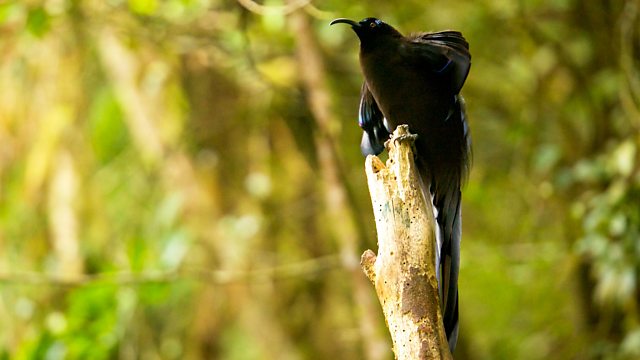 Black Sicklebill
Michael Palin presents the black sicklebill of New Guinea
Michael Palin presents the black sicklebill of New Guinea. The black sicklebill is a breath-taking creature. It's a bird of paradise, and the male sicklebill's black feathers gleam with metallic blue, green and purple highlights. But his most striking features are a slender scythe-like bill, and an extremely long sabre-shaped tail whose central plumes can reach 50cm in length.
During courtship, he transforms his pectoral and wing feathers into a huge ruff which almost conceals his head and exposes an iridescent blue patch. Perching on a dead branch, he displays horizontally, looking less like a bird than a small black comet, all the while producing strange rattling cries.
It is thought that the Black sicklebill and its relative the Brown Sickle bill may have spooked the Japanese in the Second World War. Japanese forces had occupied the North coast of (Papua) New Guinea and during their push south to the capital, Port Moresby, had to cross the mountain territories of the sicklebills. It's said that on hearing the birds' courtship displays; they flung themselves to the ground, thinking that they were under fire from the Allies.
Black sicklebill (Epimachus fastuosus)
Podcast
Discover birds through their songs and calls. 265 programmes of 90 seconds, over a year