Main content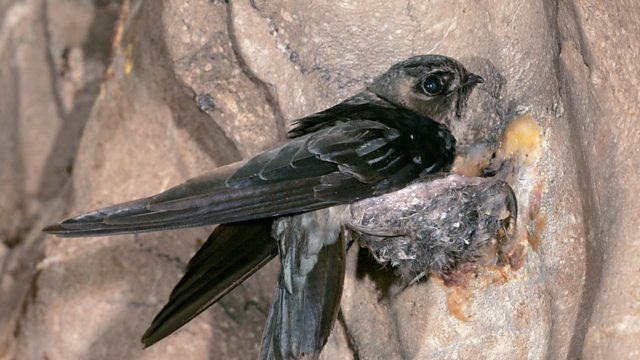 Black-Nest Swiftlet
Michael Palin presents the black-nest swiftlet, deep inside an Indonesian cavern.
Michael Palin presents the black-nest swiftlet deep inside an Indonesian cavern. The Black-nest swiftlet landing on the cave wall, begins work on one of the most expensive and sought- after items connected with any bird; its nest.
The swiftlet's tiny bowl -shaped nest is highly-prized as the main ingredient for bird's nest soup and is built by the male from strands of his saliva which harden into a clear substance which also anchors the nest to the vertiginous walls. Black-nest swiftlets are so-called because they add dark-coloured feathers to their saliva which are then incorporated into their nests.
The nests fuel expensive appetites. A kilo of nests can fetch 2500 US dollars and worldwide the industry is worth some 5 billion US dollars a year. Today in many places in South-east Asia artificial concrete "apartment blocks" act as surrogate homes for the Black-nest swiftlets. The birds are lured in by recordings of their calls, and once they've begun nesting, the buildings are guarded as if they contained gold bullion.
Black-nest swiftlet (Aerodramus maximus)
Webpage image courtesy of D. Wechsler-Vireo / naturepl.com.
NPL Ref 01477365 © D. Wechsler-Vireo / naturepl.com
Podcast
Discover birds through their songs and calls. 265 programmes of 90 seconds, over a year