Main content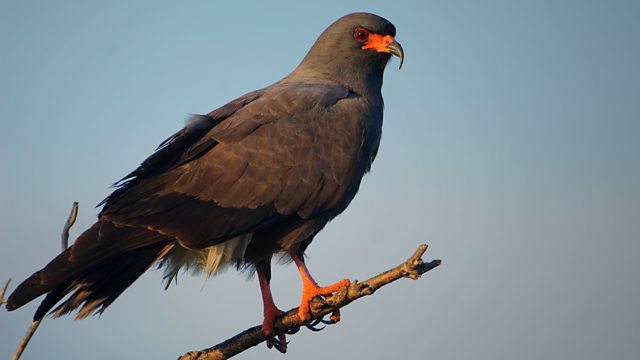 Snail Kite
Michael Palin presents the snail kite from the Florida Everglades
Michael Palin presents the snail kite from the Florida Everglades. Unlike many birds of prey which are known for their speed and agility, the snail kite hunts at a leisurely pace, one which matches its prey; and here in Florida's swamps, it is on the lookout for the apple snail.
To pick them out of floating vegetation the kite has evolved long needle-like claws, and its slender, viciously - hooked bill is perfect for snipping the snails' muscles and winkling them out of their shells. Snail kites are common across wetlands in South and Central America, but rare in Florida where there are around one thousand birds. Drainage of these marshes has made them scarce, but popular with bird watchers.
It's easy to see why, because snail kites are striking birds with their orange feet and black and red bill. The males are ash-grey apart from a white band at the base of their tails. Females and young birds are browner and more mottled. In times of drought, they will eat turtles, crabs or rodents, but these avian gourmets always return to their favourite dish of, escargots.
Snail Kite (Rostrhamus sociabilis)
Recording of snail kite by William Belton / Ref: ML 20008
This programme contains a wildtrack recording of the snail kite kindly provided by The Macaulay Library at the Cornell Lab of Ornithology; recorded by William Belton on 12 Nov 1978, Banhado Do Pontal, Brazil.
Podcast
Discover birds through their songs and calls. 265 programmes of 90 seconds, over a year