Main content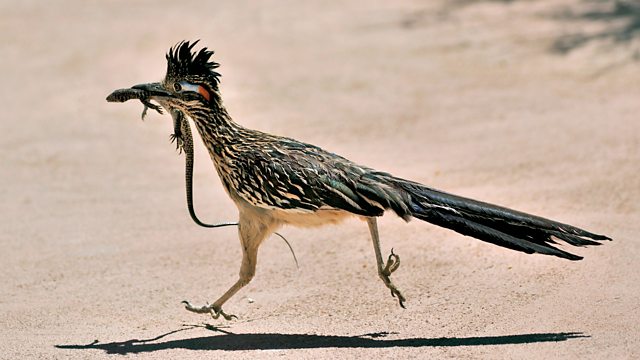 Greater Roadrunner
Michael Palin presents the greater roadrunner of south western North America
Michael Palin presents the greater roadrunner of south western North America. A cuckoo that can run at 20 miles per hour and snap up venomous reptiles might not seem destined for cartoon fame, but that's exactly what happened to the Greater Roadrunner.
The loud "beep-beep" call of the Warner Brothers cartoon creation, always out-foxing his arch-enemy Wile-E. Coyote brought this very odd member of the cuckoo family racing into the living rooms of the western world from 1949 onwards . Greater roadrunners live in dry sunny places in the south western states of North America, where their long-tailed, bushy--crested, streaky forms are a common sight. They will eat almost anything from scorpions to rats, outrunning small rodents and lizards and even leaping into the air to catch flying insects.
As it runs across the desert, the roadrunner's footprints show two toes pointing forward and two backwards. The "X" shape this forms was considered a sacred symbol by Pueblo tribes and believed to confound evil spirits because it gives no clues as to which way the bird went.
Greater Roadrunner (Geococcyx californianus)
Webpage image courtesy of Mark Heuclin / naturepl.com.<?xml:namespace prefix = o ns = "urn:schemas-microsoft-com:office:office" />
NPL Ref 01419969 © Mark Heuclin / naturepl.com
Recording of greater roadrunner by Nigel Tucker / Ref: ML 44763
Podcast
Discover birds through their songs and calls. 265 programmes of 90 seconds, over a year