Main content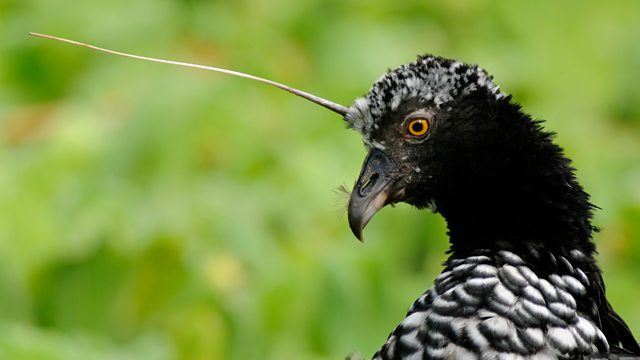 Horned Screamer
Michael Palin presents the Venezuelan horned screamer
Michael Palin presents the Venezuelan horned screamer. Soundling as if someone is using a giant plunger in the Venezuelan marshes, these are the mating calls of the Horned Screamer. They're sounds that only another Horned Screamer could love, but then screamers are very odd birds. Over the years ornithologists have struggled to classify them, modern thinking puts their closest living relatives as the primitive Australian Magpie Goose.
Protruding from its head is a long wiry horn made of cartilage, which could rightfully earn it the title of "unicorn of the bird world" Usually seen as pairs or, outside the breeding season in small groups in the marshes and savannas of the northern half of South America, as you'd expect from their name , they are very vocal and these primeval bellows which sound more cow like than bird like and can be heard up to 3 kilometers away.
Horned screamer (Anhima cornuta)
Recording of horned screamer by Paul A Schwartz / Ref: ML 58929
This programme contains a wildtrack recording of the horned screamer kindly provided by The Macaulay Library at the Cornell Lab of Ornithology; recorded by Paul A Schwartz in Sept 1964; at Hato El Milago, Cojedes, Venezuela.
Podcast
Discover birds through their songs and calls. 265 programmes of 90 seconds, over a year