Main content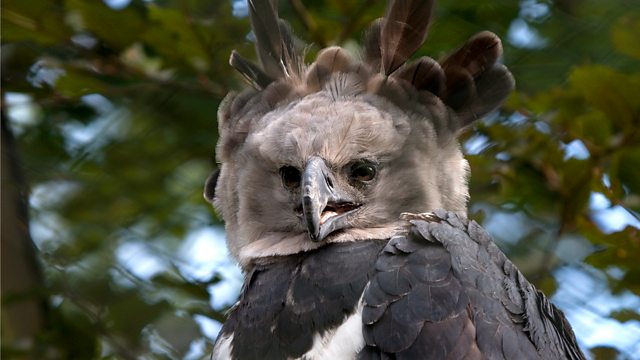 Harpy Eagle
Michael Palin presents the Harpy Eagle flying over the Brazilian rainforest
Michael Palin presents the Harpy Eagle flying over the Brazilian rainforest. This is one of the most powerful birds of prey and links mythological corpse-bearers, the coat of arms of Panama and the Harry Potter films.
In Greek mythology harpies were creatures with the bodies of eagles and the faces of women, who seized people in their claws. A human body is beyond the real-life harpy eagle, but with its massive 12 cm talons, it can carry a full-grown sloth or an adult howler monkey. Being versatile hunters, the eagles catch a range of birds and reptiles and can easily hoist porcupines and armadillos into the treetops to feed their young.
Harpy Eagles breed in the rainforests of central and South America. They're blackish- grey above and white below with a black collar and a divided crest which gives them an uncanny resemblance to Buckbeak the Hippogriff in 'Harry Potter and the Prisoner of Azkaban'.
Last on
Harpy eagle (Harpia harpyja)
Webpage image courtesy of Edwin Giesbers / naturepl.com.
NPL Ref 01364662 © Edwin Giesbers / naturepl.com.
Recording of harpy eagle by Curtis A Marantz / Ref: ML 126757
This programme contains a wildtrack recording of the harpy eagle kindly provided by The Macaulay Library at the Cornell Lab of Ornithology; recorded by Curtis A Marantz on 17 Aug 2015; at Floresta Amazonica Hotel, Alta Floresta, Mato Grossa, Brazil.
Broadcasts

Podcast
Discover birds through their songs and calls. 265 programmes of 90 seconds, over a year